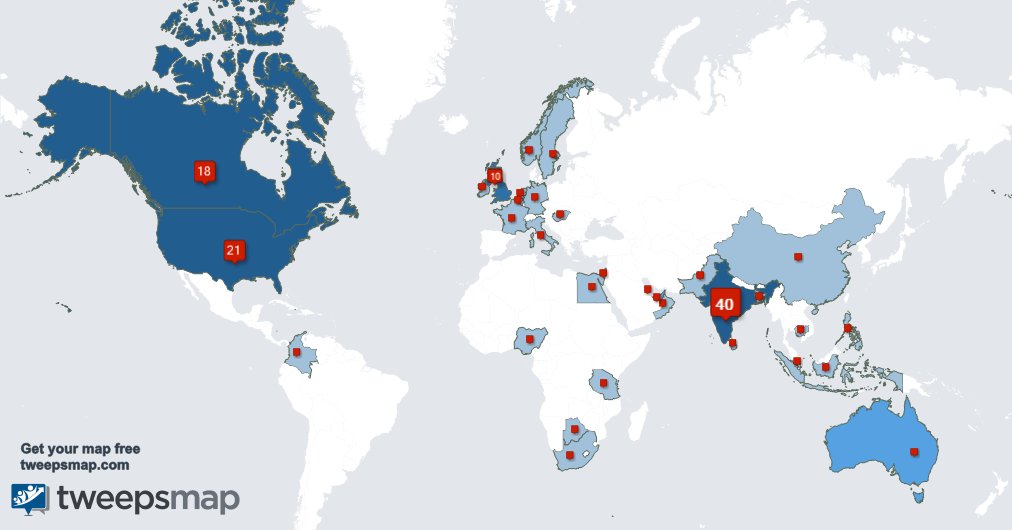 40% of my followers are from India – no surprises since I am from India myself and a lot of these tweeps are people I know personally.
21% are from the USA and 18% from Canada – no surprises due to my love for movies, music, NHL, tv shows, scifi and horror.
10% is from the UK – mostly Arsenal FC fans.
Arab nations, a few African countries have 0.1% each – no surprises there. I'm not even sure about the 1.7% from the UAE! Mostly ex-Muslim Atheists Tweeps I guess.
And 0.4% in Pakistan! OK, I am aware of one person, anyone else?
2.4% is from Australia – and 0% from New Zealand! C'mon Kiwis, show me some love!
0.4% from the Phillippines, 0.1 each from Malaysia, Indonesia & Vietnam!
Assorted Western European nations all have 0.1% each but none from Russia! With my ardent love for Vodka??
My fellow Malayalees consist of 17.2% of my followers – next highest state or provincial area is Ontario with 6%!
7.1% are from England (not a state I know)
4.4& are from Karnataka, mostly Bangalore and mostly my fellow Mallus (c'mon, I see you hiding behind your plate of beef fry)
10% of my followers live in my hometown of Kochi, the next highest at 3.3% is from Toronto!