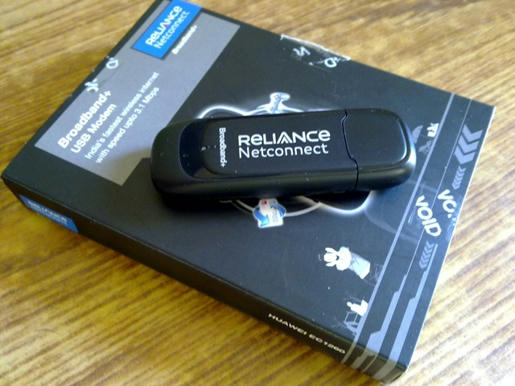 I'm so addicted to the internet that if it weren't for my close friends, former team members, some tv shows, football on tv, coffee shops & the occasional bar hop, I'd have no other private life other than the internet. And usually whatever else happens in my life is always shared on the internet. So not having internet access is an absolute no-no.
So as I am renting a place in Chalakudy, I needed to either transfer my current internet connection, a wireline broadband connection with Tata Indicom, or get a new one in Chalakudy. After a long futile search in their website and calling up their customer care center, I realized last week that Tata does not offer their wireline service in Chalakudy. No idea why but they just don't. So I thought of the other options and decided that since I was just renting I would opt for the more convenient but not always optimal choice of purchasing a USB device/internet connection option. But which one?
Turns out that my choice would be made up for me. I called up Tata Photon, MTS mBlaze, Tata Docomo & Vodafone for their 3G/broadband USB device and broadband services. To me it seemed like MTS had the better & more attractive offers with their mBlaze device. I've heard only good things about Tata Docomo, Tata Photon & Reliance's USB stick devices from friends and colleagues who have used them. Vodafone does not offer 3G services in Kerala and although their service is supposed to be good I wanted higher speeds. And Idea's Netsetter speeds are not comparable.
However in Chalakudy only Reliance has the hi-speed option for the USB device. Which made it very easy to choose – it's Reliance Netconnect. I took a Netconnect + connection with them and so far I like their services. I've not used it too long, a couple of hours on Friday night, an hour in Cafe Coffee Day on Saturday evening and right now as the power is down in the apartment, I'm using it as well.