This is a "whatever-happened-to" post. I've been watching more of Star Trek TNG season 1 yesterday and I was watching episode 14 (Angel One) and one of the guest stars is a familiar figure from another 80s iconic tv show – Knight Rider (can we call that show semi-Scifi?).
Yes it's Patricia McPherson aka Bonnie Barstow on Knight Rider. Probably one of my first celebrity crushes ever! Patricia McPherson was born in Washington where her father was a high ranking naval officer. She spent several years in France when her father was sent to Paris, and later studied advertising at the university in Florida and California. She then became a very successful model and worked as a magazine graphic artist.
After a few minor appearances she auditioned and got her first regular series role in Knight Rider. She appeared in season one and was absent from season two, but she was subsequently asked to return to the show, which she did in the season-three opener, remaining from 1984 until the end of the series in 1986 (she was in 62 episodes in total).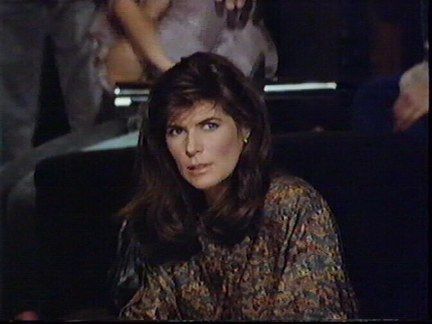 She made several guest roles on tv series in the 80s but she apparently quit acting in 1991 but did make one appearance in a 2009 episode of Warehouse 13. She got married in 1991 and has since been very active conserving wildlife and the forests. The last pic is from a 2011 convention.