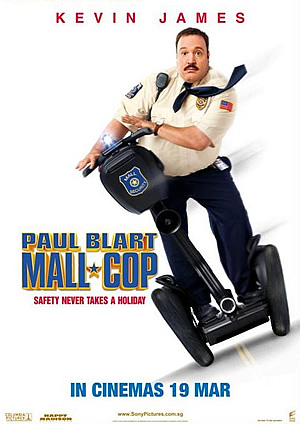 I first came to know about this movie from my cousin Manoj. I can see easily why, he & I, readily identify with commedian actor actor Kevin James. James is a fat, loveable, average everyday guy who loves food, music & you want to root for him because he is so nice!
Well, I'm not if you would lable me "nice" but I see a lot of myself & my cousin Manoj in Paul Blart Mall Cop . Enthusiastic about becoming a New Jersey trooper, Paul almost makes through the trials in good speed. But he suffers from hypoglycemia and dizziness costs him the job. He is cheered on by his mom and his daughter. Paul is lonely as his immigrant wife dumped him with a baby once she got her green card. He is low on confidence and misses companionship & love.
When the mall is attacked by a gang of robbers and take hostages (including Amy, the girl Paul pines for), it's up to a misfit hero to save the day. He uses the training that he has had for 10 years while trying to pass the test to be a cop to his advantage and knocks out the robbers one by one. He uses his skills and his brain to outwit the thieves.
This is a feel good funny movie that lets the underdog win. His heroics makes his daughter proud of her loving father and he wins the girl he has been longing for. What's not to love in this? For a lighthearted fun evening watch Paul Blart.