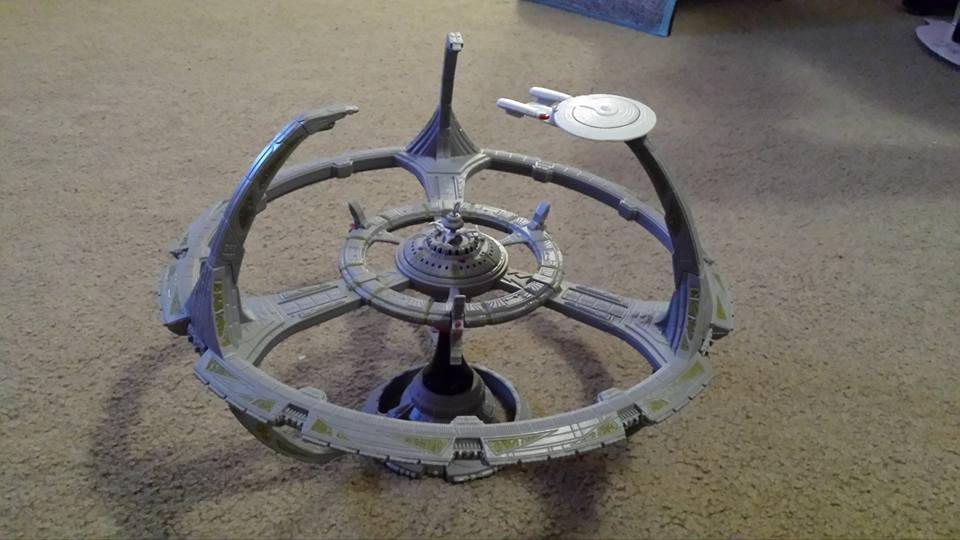 This here is the Deep Space Nine / Terek Nor model from Playmates. It looks pretty awesome if you ask me. Playmates Toys is a Costa Mesa, California toy manufacturer and a subsidiary of Hong Kong-based Playmates Holdings Ltd. Founded in 1966, it is best known for their dolls, figurines and action figures, based on popular culture. They made models and figures of tv shows like The Addams Family, Coneheads, Disney Fairies, Lara Croft, The Simpsons, Lost in Space, Teenage Mutant Ninja Turtles & Star Trek. They lost their license to manufacture Star Trek action figures and models in 2013 but some of their models have remained in high demand even now.
The line was launched in the fall of 1992 with a series of action figures based on Star Trek: The Next Generation. Nearly the entire USS Enterprise-D crew was represented, plus Gowron, a Ferengi, a Borg, and a Romulan. Role-playing items included a type 2 phaser and communicator, while a shuttlecraft was produced for the figures. A model of the Enterprise-D was also released. The line was quite successful, and another wave of TNG figures, accessories, and vehicles was produced in the fall of 1993 along with a special boxed set of all seven of the Original Series' major crew members. Deep Space Nine debuted in 1994 followed by more Playmates TNG characters and a toy line for the feature film, Star Trek Generations. Voyager figures arrived in 1995, as did more TOS, TNG, and DS9 items. By 1996, the separate lines were all consolidated under a single "Star Trek" banner, excepting releases that were based on Star Trek: First Contact and Star Trek: Insurrection.
Some of the models weren't that good but this one of the Deep Space Nine station itself is awesomely done. That it comes with a miniature USS Enterprise D (though it would have been more appropriate to have the Defiant there instead) just makes it even more awesome. I checked out prices online but they are way beyond my budget. Still it is nice to keep it on my wish list.