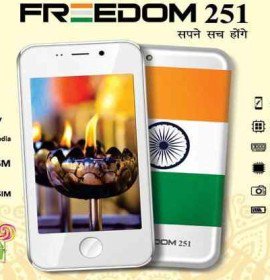 Everyone in India and their grandmother has been talking about the Freedom 251 smartphone. Ringing Bells, a company based in Noida, is called the cheapest smartphone in the world, priced at just Rs.251 (less than $5) – yes you read that right. The next cheapest priced phone in India is around Rs. 4,100 and it has lower specs than the Freedom 251 phone. Whaaaat???
The smartphone is 3G-enabled and features a 4-inch WVGA resolution display. It is powered by a 1.3 Ghz quad-core processor coupled with 1GB RAM, 8GB total storage space and sports a 3.2 megapixel camera on the back. It will have 0.3 megapixel camera on the front and has a 1450 mAh battery. You would otherwise have to pay atleast Rs.4000 for these specs. Here are the problems though, and it seems like a typical scheme that rings around in India ever so often. Firstly, the
initial ads showed us a much better looking phone
than what it actually is. The actual phone is posted to the left.
Secondly it's not a made in India phone as they claim it to be (as part of the Make In India initiative that this government seems to dangle in front of the public). It's actually a phone from Chinese manufactures AdCom and you can see that they have hidden the logo with a whitener. On all the phones! The cheapest phone you could get in India till date was the Rs.1449 – and the Freedom 251 actually has better specs than the other phone! Experts say that the cheapest phone in China, with these specs, will cost $28 to make and $40 to ship and sell in India. How are these folks at Ringing Bells making it available at just Rs.251? It remains to be seen. The review phone sent to a couple of tech magazines & websites seem to be working well for it's spec and dirt cheap price.