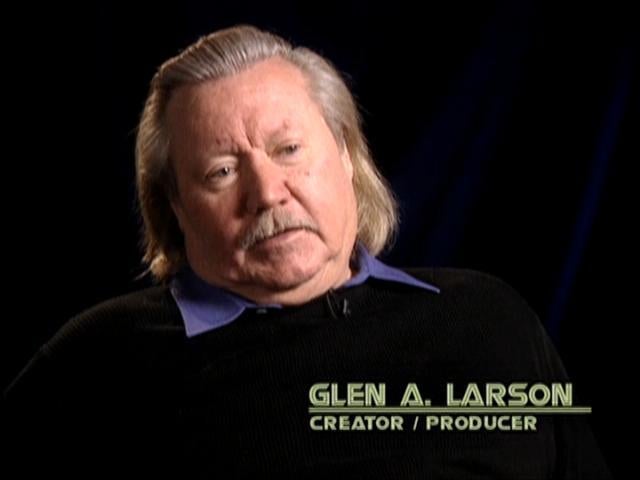 Wildly successful tv producer and creator of some of the most beloved tv shows like Battlestar Galactica, Knight Rider, Quincy M.E., Magnum, P.I., and The Fall Guy has died at the age of 77. Larson died in California from esophageal cancer. He was born an only child on Jan. 3, 1937, in Long Beach, Calif. He and his parents moved to Los Angeles when he was young, and he became enthralled with the art of storytelling while listening to hour after hour of radio shows.
Larson began his career in the entertainment industry in 1956 as a member of the vocal group The Four Preps, with whom he appeared in one of the Gidget films. After working for Quinn Martin Sr. on productions including The Fugitive, Larson signed a production deal with Universal Studios. His first hit series was Alias Smith and Jones, a Western which described the activities of Hannibal Heyes and Jedediah "Kid" Curry, concentrating on their efforts to go straight. Larson was involved in the development for television of The Six Million Dollar Man, based on Martin Caidin's novel Cyborg, into the successful series, and was one of the program's early executive producers. Larson later secured a then-unprecedented $1 million per episode budget for Battlestar Galactica. After the series was canceled, Larson went on to create a relatively low-budget sequel to the series, titled Galactica 1980, which was set many years later, when the Galactica had reached Earth. This series was less successful than the original and was canceled after 10 episodes.
Larson re-used some of the sets, props, costumes, and effects work from Galactica for the light-hearted sci-fi series Buck Rogers in the 25th Century in 1979. Based on the famous comic-book character created in 1928 by Philip Francis Nowlan, Larson co-developed the series with Leslie Stevens. In the 1980s, Larson garnered further success as one of the creators of Magnum, P.I., which ran from 1980-88. Additionally, Larson created The Fall Guy, which ran from 1981-86. Larson's next prominent series was Knight Rider, which featured science-fiction elements with a light-hearted action-adventure scenario and limited violence. These basic elements characterized much of Larson's output throughout the 1980s with Automan, Manimal and The Highwayman, though all of these series were unsuccessful and none lasted more than a single season. Larson's popularity declined, though he made a brief comeback in the 1990s with an adaptation of the Ultraverse comic Night Man, which lasted two seasons. Ofcourse BSG was remade into a extremely popular series in 2003. Larson also has a star on the Hollywood Walk of Fame for his contributions to the television industry.
Glen Albert Larson (January 3, 1937 – November 14, 2014)