Gordie Howe, the most legendary name in the history of professional hockey, died on Friday morning. He was 88. Known simply as "Mr. Hockey," Howe played 26 seasons in the NHL and six seasons in the World Hockey Association. He's the all-time leader in games played in the NHL with 1,767. He's second in career goals (801) and fourth in career points (1,850). He won four Stanley Cups with the Detroit Red Wings, and was a 23-time All-Star selection. Howe suffered a serious stroke in October 2014. The hockey legend later underwent stem cell treatment in Mexico and his family saw significant improvement in him – enough that he was well enough to attend a dinner in his honor back in his hometown Sasktoon in February 2015. But he battled dementia, according to his son, Murray Howe.
Making his NHL debut for Detroit on Oct. 16, 1946, against the Toronto Maple Leafs, Howe played 32 professional hockey seasons, more than any other man. Howe was famous for his brute strength and toughness, combined with an unparalleled goal-scoring ability. He was also famous for his longevity, having played for the Hartford Whalers in 1979-80 at age 52 – the only NHL player to have played in five different decades. Another part of that longevity: Having the most points by a father/son combo in NHL history, scoring 2,592 with son Mark Howe. He won the Hart Trophy six times as NHL MVP, and won six Art Ross trophies as its leading scorer. Howe was inducted into the Hockey Hall of Fame in 1972.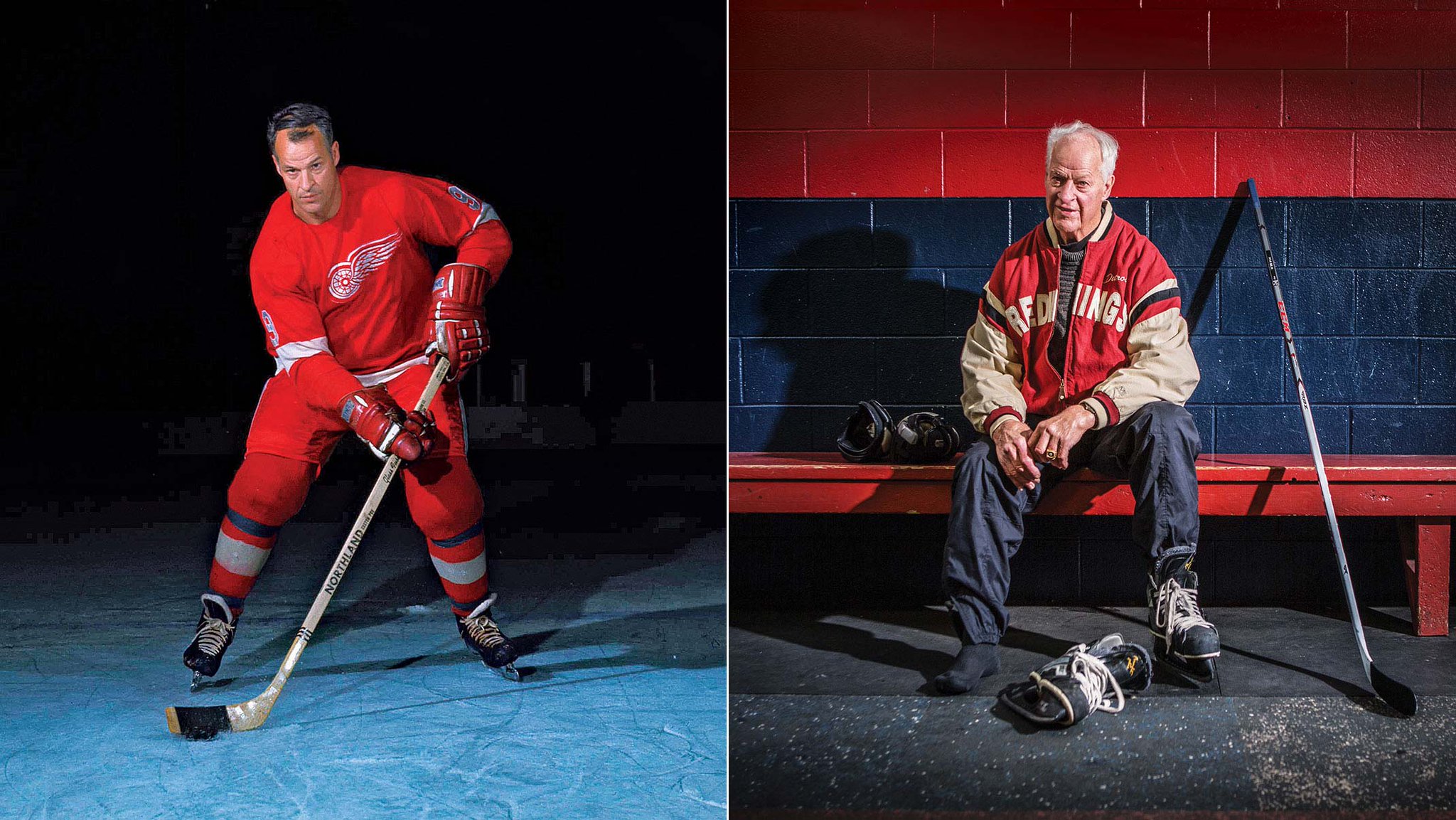 Howe spent most of his career with the Detroit Red Wings, winning the Stanley Cup four times. He was in the top 10 of scorers for 21 consecutive years and was named Most Valuable Player six times, before finally retiring in 1980. He made his debut in 1946, played 26 NHL and six World Hockey Association seasons and held many of the scoring records until the rise of fellow Canadian-born legend Wayne Gretzky. Howe retired in 1971 but made a comeback with the Hartford Whalers in 1979-80 before finally quitting at 52, making him the only player whose career spanned five decades. When the NHL launched its Lifetime Achievement Award in 2008, Howe was the first recipient. Some recalled Howe's tremendous physical presence. But although he was said to have inaugurated the "Gordie Howe hat trick" – a goal, an assist and a penalty for fighting in the same game – he only did it himself once. And after a particularly bruising treatment of opponent Lou Fontinato in 1959, most chose not to challenge him.
Howe was in the crowd with other hockey heroes like Wayne Gretzky and Mark Messier when Canada defeated the United States to win the gold medal at the 2010 Winter Olympics in Vancouver. He also carried the Olympic flame in the Games torch relay. Howe met his wife, Colleen, at a bowling alley when she was 17 years old, and they were married four years later on April 15, 1953. Colleen Howe was one of the founders of the Detroit Junior Red Wings and represented both Gordie and Mark financially during their careers. She died in 2009 at age 76 after a long battle with Pick's disease.