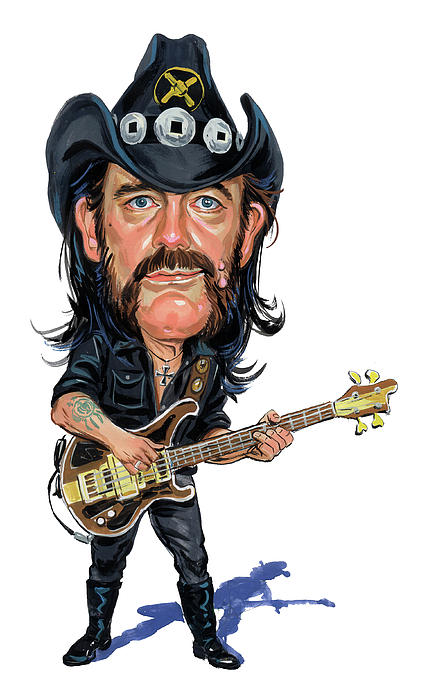 Lemmy Kilmister, founding member and frontman of Motörhead. has died. He was 70 years old. In a statement posted to Facebook, Motörhead wrote, "There is no easy way to say this… our mighty, noble friend Lemmy passed away today after a short battle with an extremely aggressive cancer. He had learnt of the disease on December 26th, and was at home, sitting in front of his favorite video game from the Rainbow which had recently made it's way down the street, with his family. We cannot begin to express our shock and sadness, there aren't words. We will say more in the coming days, but for now, please… play Motörhead loud." He is best known as the lead vocalist, bassist, principal songwriter and the founding and sole constant member of the heavy metal band Motörhead as well as a former member of Hawkwind. He is also known for his appearance, including his friendly mutton chops, prominent facial moles, and gravelly voice.
In addition to cancer, Lemmy had been suffering from a number of other well-publicized health issues, including hematoma. In 2013, he was fitted with an implantable defibrillator to correct an irregular heartbeat. His health issues had caused the cancelation of multiple Motörhead performances in recent years, though Lemmy remained an active force up until the time of his death. Ian Fraser "Lemmy" Kilmister was born in Staffordshire, England, in 1945. Inspired to become a musician after seeing The Beatles perform in concert, Lemmy spent his 20s playing in a variety of bands and also served as a roadie for the Jimi Hendrix Experience. In 1972, he was hired to play bass in the UK space rock group Hawkwind, despite having no previous experience on the instrument. He quickly honed his skills, helping shape the band's sound on critically acclaimed albums such Space Ritual, while also singing lead vocals on the song "Silver Machine", which peaked at No. 3 on the UK charts.
Lemmy was the founder, lead vocalist, bassist, principal songwriter, and only constant member of Motörhead since the band's formation in 1975. To date, Motörhead have released over 20 studio albums and achieved 30 million in sales worldwide. Their last record, Bad Magic, was released in August 2015. Motörhead saw far more commercial success in the UK, though they achieved a cult status in the US. Albums such as Ace of Spades, Orgasmatron, and Rock N' Roll were critically lauded, though ironically the band's only Grammy Award came via a cover of Metallica's "Whiplash", which they recorded for a tribute CD. The 2010 documentary Lemmy was directed and produced by Greg Olliver and Wes Orshoski. It consists of a combination of 16 mm film and HD video footage, produced over three years and features interviews and inputs from his friends, peers and admirers, many of whom are huge rocks stars in their own right.
Ian Fraser "Lemmy" Kilmister (24 December 1945 – 28 December 2015)