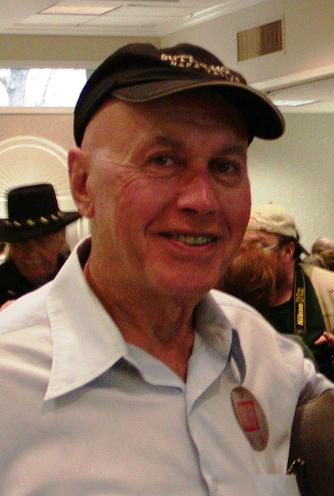 Usually the "Recent Deaths" section of Wikipedia is something that I check on a daily basis but somehow I missed this one. Actor Michael Ansara, a busy and widely recognizable character actor who was best known for portraying American Indians and later a Klingon in three different "Star Trek" series, died on Wednesday at his home in Calabasas, California. Ansara was born in a small village in Syria, and his family emigrated to the United States when he was two years old, initially living in Massachusetts before settling in California. He originally wanted to be a physician but developed a passion for becoming a performer after he began taking acting classes to overcome his shyness.
During the 1950s, Ansara appeared in several episodes of Alfred Hitchcock Presents and as a villain in Abbott & Costello Meet The Mummy. It was the popular TV series Broken Arrow (1956), wherein he played the lead role of Cochise, that raised Ansara's profile and made him a household name. While making the series, the 20th Century-Fox publicity department arranged a date between Ansara and actress Barbara Eden. The two later married and Ansara guest starred on Eden's I Dream of Jeannie series as the Blue Djinn, who had imprisoned Jeannie in a bottle. He also played King Kamehameha in the Jeannie episode "The free casino cash no deposit Battle of Waikiki" and in the final season he played Major Biff Jellico in another episode. Michael Ansara and Barbara Eden divorced in 1974. The couple had one son together, actor Matthew Ansara, who died on June 25, 2001, of a heroin overdose.
Ansara starred in his own ABC-TV series, Law of the Plainsman (1959–60) as an Apache Indian named Sam Buckhart who had been appointed as a U.S. Marshal. He played Judas in The Robe, Miguel Alvarez in the film Voyage to the Bottom of the Sea, and in the Elvis Presley movie Harum Scarum. In 1976, he starred in the movie Mohammad, Messenger of God (also titled The Message), about the origin of Islam and the message of prophet Mohammad. He also played Killer Kane in in the 1979-1980 season of Buck Rogers in the 25th Century. However he will forever be known in Star Trek & science fiction loreas one of the original Klingons, Kang.  Ansara is one of seven actors to play the same character (in his case the Klingon commander Kang) on three different Star Trek TV series – the original series (Day of the Dove), Deep Space Nine (Blood Oath) and Voyager (Flashback). Ansara also played Lwaxana Troi's husband apply for bank loan Jeyal on the Deep Space Nine episode, "The loan in usa Muse".
He was married 3 times; to Jean Byron, Eden and he married Beverly Kushida in 1977. On June 25, 2001, his son Matthew died from a drug overdose in Monrovia, California. Ansara lately resided in Calabasas, California and died after a long illness.
Michael Ansara (April 15, 1922 – July 31, 2013)