Neil Ellwood Peart, OC, Canadian musician and writer best known as the drummer and primary lyricist of the rock band Rush fter a three-year illness, died of glioblastoma on January 7, 2020, at age 67. The illness had been a closely-guarded secret in Peart's inner circle until his death. His family made the announcement on January 10. Peart received numerous awards for his musical performances, including an induction into the Modern Drummer Hall of Fame in 1983, making him the youngest person ever so honoured. His drumming was renowned for its technical proficiency, and his live performances for their exacting nature and stamina. Peart grew up in Port Dalhousie, Ontario. During adolescence, he floated between regional bands in pursuit of a career as a full-time drummer. After a discouraging stint in England to concentrate on his music, Peart returned home, where he joined Rush, a Toronto band, in mid-1974.
Early in his career, Peart's performance style was deeply rooted in hard rock. He drew most of his inspiration from drummers such as Keith Moon and John Bonham, players who were at the forefront of the British hard rock scene.[4] As time passed, he began to emulate jazz and big band musicians Gene Krupa and Buddy Rich. In 1994, Peart became a friend and pupil of jazz instructor Freddie Gruber. It was during this time that Peart decided to revamp his playing style by incorporating jazz and swing components. In addition to serving as Rush's primary lyricist, Peart also published several memoirs about his travels. His lyrics for Rush addressed universal themes and diverse subjects including science fiction, fantasy, and philosophy, as well as secular, humanitarian, and libertarian themes. Peart wrote a total of seven nonfiction books focused on his travels and personal stories. In January 2018, bandmate Alex Lifeson confirmed that Rush was retiring due to Peart's health issues.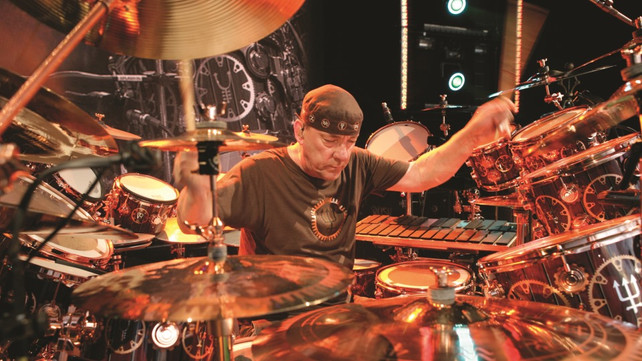 During his last years, Peart lived in Santa Monica, California, with his wife, photographer Carrie Nuttall, and daughter Olivia. On August 10, 1997, soon after the conclusion of Rush's Test for Echo Tour, Peart's first daughter (and, at the time, his only child) Selena Taylor, 19, was killed in a single-car accident on Highway 401 near the town of Brighton, Ontario. His common-law wife of 23 years, Jacqueline Taylor, succumbed to cancer only 10 months later on June 20, 1998. Peart attributes her death to the result of a "broken heart" and called it "a slow suicide by apathy. In his book Ghost Rider: Travels on the Healing Road, Peart writes that he told his bandmates at Selena's funeral, "consider me retired". Peart took a long sabbatical to mourn and reflect, and travelled extensively throughout North and Central America on his motorcycle, covering 88,000 km (55,000 mi). After his journey, Peart decided to return to the band. Peart wrote the book as a chronicle of his geographical and emotional journey.
Peart was introduced to photographer Carrie Nuttall in Los Angeles by long-time Rush photographer Andrew MacNaughtan. They married on September 9, 2000. In early 2001, Peart announced to his bandmates that he was ready to return to recording and performing. After the release of Vapor Trails and his reunion with bandmates, Peart returned to work as a full-time musician. In the June 2009 edition of Peart's website's News, Weather, and Sports, titled "Under the Marine Layer", he announced that he and Nuttall were expecting their first child. Olivia Louise Peart was born later that year.