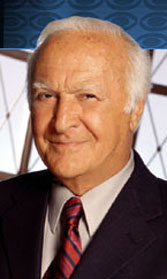 Robert Loggia, an Academy Award-nominated actor who embodied both swagger and mischievous charm, notably as a too-trusting Miami crime boss in "Scarface," died Friday at his home in Los Angeles from Alzheimer's disease. He was 85. He could portray an everyman's understanding and a con-man's cleverness to roles ranging from the owner of a toy company opposite Tom Hanks in "Big" to his Oscar-nominated turn as sordid private detective Sam Ransom in "Jagged Edge," written by Joe Eszterhas and starring Glenn Close and Jeff Bridges. Loggia also played a violent mobster named Feech La Manna on a few episodes of the series The Sopranos.
He was born in Staten Island, N.Y., on Jan. 3 1930, played in memorable dramas and comedies during the 1980s and '90s. His resume included "An Officer and a Gentleman," "Prizzi's Honor", "Independence Day" and "The Ninth Configuration." Though he was nominated for a lead actor in a drama Emmy for his portrayal of a nonconformist investigator in "Mancuso, F.B.I.," Loggia was less than pleased with the experience. The son of Italian immigrants, Loggia was raised in Manhattan's Little Italy. As a student at the University of Missouri, he studied journalism, but that passion faded when he returned to New York and enrolled at the Actors Studio. In his first film ,in 1956, he played a mobster opposite Paul Newman in "Somebody Up There Likes Me," based on the life of boxer Rocky Graziano.
He is survived by his wife, Audrey Loggia, and children.
Salvatore Loggia aka Robert Loggia (January 3, 1930 – December 4, 2015)