Actor Sir Roger Moore, best known for playing James Bond, has died aged 89, his family has announced. He played the famous spy in seven Bond films including Live and Let Die and A View to a Kill. Sir Roger's family confirmed the news on Twitter, saying he had died after "a short but brave battle with cancer". The actor took the character of James Bond in a more humorous direction than his predecessor Sean Connery. He is also known for playing Simon Templar in the television series The Saint between 1962 and 1969. Moore took over the role of Bond from Sean Connery in 1972, and made his first appearance as 007 in Live and Let Die (1973). The longest serving Bond to date, Moore portrayed the spy in six more films. Appointed a UNICEF Goodwill Ambassador in 1991, Moore was knighted by Queen Elizabeth II in 2003 for "services to charity". In 2008, the French government appointed Moore a Commander of the Ordre des Arts et des Lettres.
Roger Moore was born on 14 October 1927 in Stockwell, London. He was the only child of George Alfred Moore, a policeman, and Lillian "Lily" Pope. His mother was born in Calcutta, India, of English origin. He attended Battersea Grammar School, but was evacuated to Holsworthy, Devon, during the Second World War, and attended Launceston College. He was further educated at Dr Challoner's Grammar School in Amersham, Buckinghamshire and then attended the College of the Venerable Bede at the University of Durham, but did not graduate. At 18, shortly after the end of the Second World War, Moore was conscripted for national service. On 21 September 1946, he was commissioned into the Royal Army Service Corps as a second lieutenant. In the early 1950s, Moore worked as a model, appearing in print advertisements for knitwear (earning him the nickname "The Big Knit"), and a wide range of other products such as toothpaste, an element that many critics have used as typifying his lightweight credentials as an actor. Moore signed a seven-year contract with MGM in 1954 appeared in Interrupted Melody & played a supporting role in The King's Thief & the 1956 film Diane.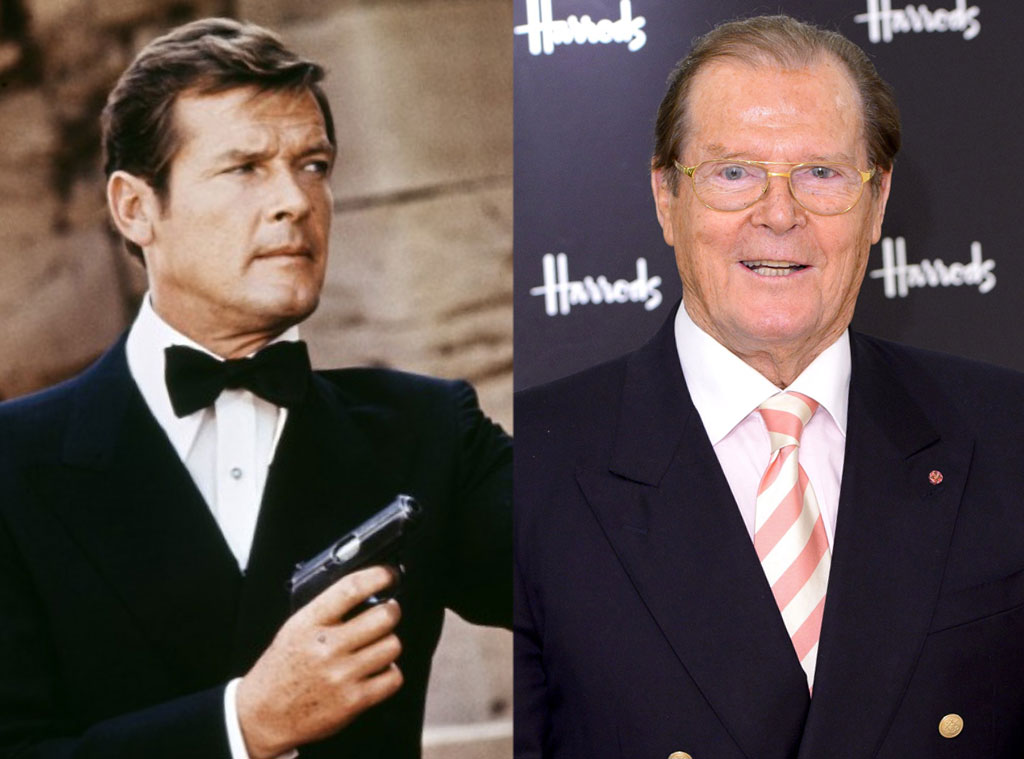 Eventually, Moore made his name in television. He was the eponymous hero, Sir Wilfred of Ivanhoe, in the 1958–59 series Ivanhoe, a loose adaptation of the 1819 romantic novel by Sir Walter Scott set in the 12th century during the era of Richard the Lionheart, delving into Ivanhoe's conflict with Prince John. Moore's next television series involved playing the lead as "Silky" Harris for the ABC/Warner Brothers 1959–60 western The Alaskans, with co-stars Dorothy Provine as Rocky, Jeff York as Reno and Ray Danton as Nifty. In the wake of The Alaskans, Moore was cast as Beau Maverick, an English-accented cousin of frontier gamblers Bret Maverick (James Garner), Bart Maverick (Jack Kelly) and Brent Maverick (Robert Colbert) in the much more successful ABC/WB western series Maverick. Worldwide fame arrived after Lew Grade cast Moore as Simon Templar in a new adaptation of The Saint, based on the novels by Leslie Charteris. The Saint ran from 1962 for six seasons and 118 episodes, making it (in a tie with The Avengers) the longest-running series of its kind on British television. He made two films immediately after the series had ended: Crossplot, a lightweight 'spy caper' movie, and the more challenging The Man Who Haunted Himself (1970).
Television lured Moore back to star alongside Tony Curtis in The Persuaders!. The show featured the adventures of two millionaire playboys across Europe. Moore was paid the then-unheard-of sum of £1 million for a single series, making him the highest paid television actor in the world. In his autobiography Moore writes that he had to cut his hair and lose weight for the role. Although he resented having to make those changes, he was finally cast as James Bond in Live and Let Die (1973). After Live and Let Die, Moore continued to portray Bond in The Man with the Golden Gun (1974); The Spy Who Loved Me (1977); Moonraker (1979); For Your Eyes Only (1981); Octopussy (1983); and A View to a Kill (1985). Moore was the oldest actor to have played Bond – he was 45 in Live and Let Die (1973), and 58 when he announced his retirement on 3 December 1985. During Moore's Bond period he starred in 13 other movies, beginning with a thriller featuring Susannah York, entitled Gold (1974). He portrayed an adventurer in Africa opposite Lee Marvin in Shout at the Devil (1976), a commando with Richard Burton and Richard Harris in the unorthodox action film The Wild Geese (1978), a counter-terrorism expert opposite Anthony Perkins in the thriller North Sea Hijack (1979), and a millionaire so obsessed with Roger Moore that he had had plastic surgery to look like his hero in The Cannonball Run (1981).
Moore did not act on screen for five years after he stopped playing Bond; in 1990 he appeared in several films and in the writer-director Michael Feeney Callan's television series My Riviera and starred in the film Bed & Breakfast which was shot in 1989;[18] and also had a large role in the 1996 film The Quest; in 1997 he starred as the Chief in Spice World. At the age of 73, he played an amorous homosexual man in Boat Trip (2002) and, although the film was critically panned, Moore's comedic performance was singled out by many critics and viewers as the one of the few enjoyable aspects of it. Moore's friend Audrey Hepburn had impressed him with her work for UNICEF, and consequently he became a UNICEF Goodwill Ambassador in 1991. He was the voice of Father Christmas or 'Santa' in the 2004 UNICEF cartoon The Fly Who Loved Me. He's been married 4 times, Swedish born Danish socialite, Kristina "Kiki" Tholstrup his wife at the time of his death. He has had bouts with cancer a few times.