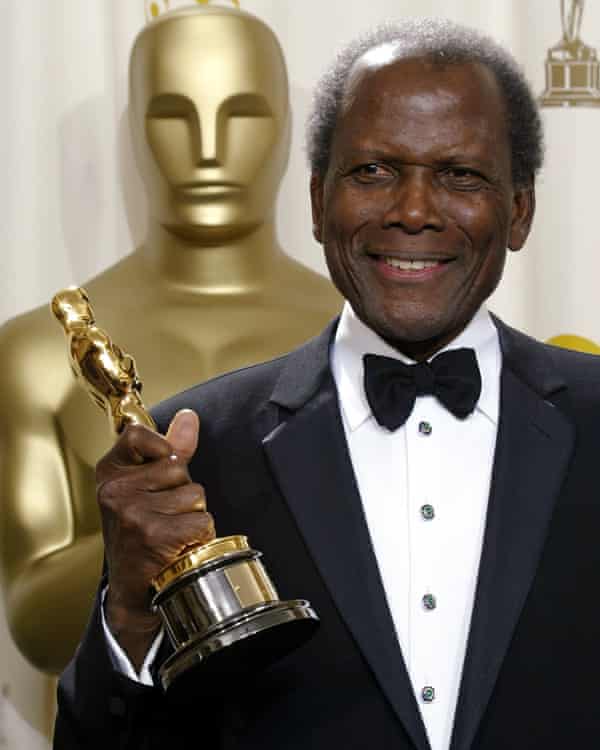 Sidney Poitier, whose elegant bearing and principled onscreen characters made him Hollywood's first Black movie star and the first Black man to win the best actor Oscar, has died. He was 94. Poitier overcame an impoverished background in the Bahamas and softened his thick island accent to rise to the top of his profession at a time when prominent roles for Black actors were rare. He won the Oscar for 1963's Lilies of the Field, in which he played an itinerant laborer who helps a group of White nuns build a chapel.
Many of his best-known films explored racial tensions as Americans were grappling with social changes wrought by the civil rights movement. In 1967 alone, he appeared as a Philadelphia detective fighting bigotry in small-town Mississippi in In the Heat of the Night and a doctor who wins over his White fiancée's skeptical parents in Guess Who's Coming to Dinner. Poitier's movies struggled for distribution in the South, and his choice of roles was limited to what White-run studios would produce. Racial taboos, for example, precluded him from most romantic parts. But his dignified roles helped audiences of the 1950s and 1960s envision Black people not just as servants but as doctors, teachers and detectives.
Poitier's first movie was 1950's "No Way Out," a noir film in which he played a young doctor who must treat a racist patient. That led to increasingly prominent roles as a reverend in the apartheid drama "Cry, the Beloved Country," a troubled student in "Blackboard Jungle" and an escaped prisoner in "The Defiant Ones," in which he and Tony Curtis were shackled together and forced to get along to survive. With that 1958 film, Poitier became the first Black man to be nominated for an Oscar. Then came 1967, and one of the most remarkable years any Hollywood star has had before or since. Poitier starred in three high-profile films, starting with "To Sir, With Love," a British drama about an idealistic teacher who must win over rebellious teenagers in a tough East London school.
In the 1970s, Poitier scaled back on acting and turned to directing, which he felt gave him more control over his film projects. He teamed up with his pal Belafonte for the Western "Buck and the Preacher," his directorial debut. He directed and co-starred with Bill Cosby in the comedy caper "Uptown Saturday Night," which, along with its spiritual sequels "Let's Do It Again" and "A Piece of the Action," featured largely Black casts. And in 1980, he directed "Stir Crazy," the Richard Pryor-Gene Wilder prison-break comedy, which became one of his biggest hits. Although he faded as a big box-office draw, Poitier continued to appear onscreen sporadically into the 1990s, most notably with Tom Berenger in the 1988 action-thriller "Shoot to Kill," with Robert Redford in the 1992 caper film "Sneakers" and with Bruce Willis and Richard Gere in 1997's "The Jackal," his final film role. In 2002, Poitier received the 2001 Honorary Academy Award for his overall contribution to American cinema.
Poitier was first married to Juanita Hardy from April 29, 1950, until 1965. Poitier became a resident of Mount Vernon in Westchester County, New York in 1956, though they raised their family in Stuyvesant, New York, in a house on the Hudson River. In 1959, Poitier began a nine-year affair with actress Diahann Carroll. He married Joanna Shimkus, a Canadian former actress, on January 23, 1976, and they remained married for the rest of his life. He had four daughters with his first wife (Beverly, Pamela, Sherri, and Gina) and two with his second (Anika and Sydney Tamiia) In addition to his six daughters, Poitier had eight grandchildren and three great-grandchildren.