Zsa Zsa Gabor, the Hungarian actress whose self-parodying glamour and revolving-door marriages to millionaires put a luster of American celebrity on a long but only modestly successful career in movies and television, died on Sunday in Los Angeles. She was 99. Gabor began her stage career in Vienna and was crowned Miss Hungary in 1936. She emigrated to the United States in 1941 and became a sought-after actress with "European flair and style," with a personality that "exuded charm and grace." Her first film role was a supporting role in Lovely to Look At. She later acted in We're Not Married! and played one of her few leading roles in Moulin Rouge (1952), directed by John Huston, who described her as a "creditable" actress.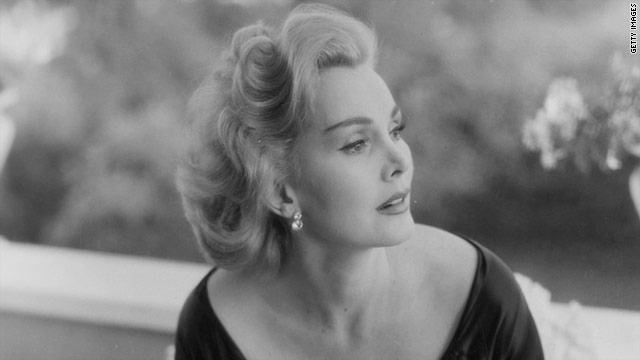 Married at least eight times, calling everyone "Dahlink," flaunting a diamonds-and-furs lifestyle and abetted by gossip columnists and tabloid headline writers, Ms. Gabor played the coifed platinum femme fatale in plunging necklines in dozens of film and television roles, many of them cameos as herself. Outside of her acting career, Gabor was best known for her extravagant Hollywood lifestyle, glamorous personality, and her many marriages, having had nine husbands, including hotel magnate Conrad Hilton and actor George Sanders. She once stated, "Men have always liked me and I have always liked men. But I like a mannish man, a man who knows how to talk to and treat a woman – not just a man with muscles." Gabor's divorces inspired her to make numerous quotable puns and innuendos about her marital (and extramarital) history. She commented: "I am a marvelous housekeeper: Every time I leave a man I keep his house." When asked, "How many husbands have you had?", she was quoted as responding, "You mean other than my own?"Gabor later claimed to have had a sexual encounter with her stepson, Nicky.
Ms. Gabor had been in and out of hospitals for years. She suffered head and other injuries and was hospitalized for a month in 2002 after a car driven by her hairdresser struck a utility pole in West Hollywood. It left her in a wheelchair, and she retreated from the spotlight. She suffered a stroke in 2005 and had surgery for a blocked carotid artery. In 2007, she again underwent surgery to treat a leg infection and aftereffects of the stroke. In July 2010, she underwent hip-replacement surgery after a fall at her home in which she also suffered a concussion. Released from the hospital in August, she was readmitted two days later for treatment of unspecified complications. In January 2011, her right leg was amputated above the knee after an infection proved resistant to antibiotics. Doctors said the operation was necessary to save her life. Gabor died of a heart attack at her home in Bel-Air, Los Angeles, on December 18, 2016, aged 99. She had been on life support for the previous five years.[62]
She is survived by husband, Prince Frederic von Anhalt, whom she wed in 1986, and the union garnered her the title Princess von Anhalt, Duchess of Saxony.