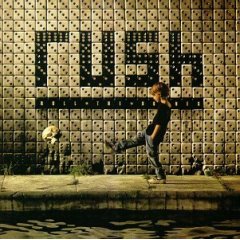 It may not be the definitive Rush album for most but it is for me. Released back in 1991 and purchased by me in the summer of 1992, for a not yet 16 year old this was my first foray into Rush territory and into the world of Progressive Rock as we know it. It was still 6 years before I first set my eyes on an internet site; my knowledge of Rush was limited since I hadn't heard about the band before but bought the album based solely on the recommendation of an older rock fanatic. From there the admiration grew for the trio of musicians who have mastered their instruments and combined form the best trio of all time. Messers Peart, Lifeson & Lee have given us albums & albums worth of lyrical gems and though Rush's music is not for everyone, any Rush fan will hold this music close to their hearts & ears. That tape that I bought had been through my stereo system numerous times until one fine day the spool just snapped and I couldn't listen to it anymore. Getting this album on mp3 6 years later is like finding a long lost friend.
The album starts with Dreamline is about the thoughts of a couple of lover on the search for a better future. The song reaching #1 on Mainstream Rock Tracks. It's features the wonderful line "learning that we're only immortal for a limited time". Bravado is the tale of staring into the face of adversity, knowing that you may not come out as a winner but you can hold your head up high since you did your very best and you did not back down. "We will pay the price, but we will not count the cost". This is one of Geddy Lee's best vocal works. Next comes the title track and lead single, which is about taking chances and rolling the dice. The song is also notable for featuring a spoken two-part "rap" after the guitar solo. This rap is performed by bassist/vocalist Geddy Lee; his altered voice is achieved through a drastic lowering of pitch and adding various effects.
Next comes Face Up; lyrically follows the same trend of taking chances as it's predecessor although it's more upbeat. Where's My Thing? is only the 3rd instrumental of Rush's career and it was nominated for a Grammy – maybe they should play more instrumentals! The Big Wheel is my fav track on the album and one of my personal Rush favs of all time. It's about youth and how you take chances against the odds in the hope for a better life. Next is Heresy, which is about the fall of communism and what the people who lived in those iron curtain countries must have felt at the time. The song then speaks of sudden capitalism with people who were now free buying up everything they've ever wanted to. Lyrically it is one of their best efforts of all time.
Ghost Of A Chance tells us that the odds of finding love are the only odds that make sense. Neurotica is another song where Rush flexes the heavy muscle, blistering riffs and a catchy chorus make this one a great song to listen to with your head swaying back and forth. You Bet Your Life completes the album with it's harmonized vocals and upbeat music. As you can see, this is a concept album about gambling and taking chances for a better future.
Roll The Bones became Rush's first US Top 5 album since 1981's Moving Pictures peaking at #3 on The Billboard 200. The album went Double Platinum according to Atlantic Records. Here's also the video to Roll The Bones.