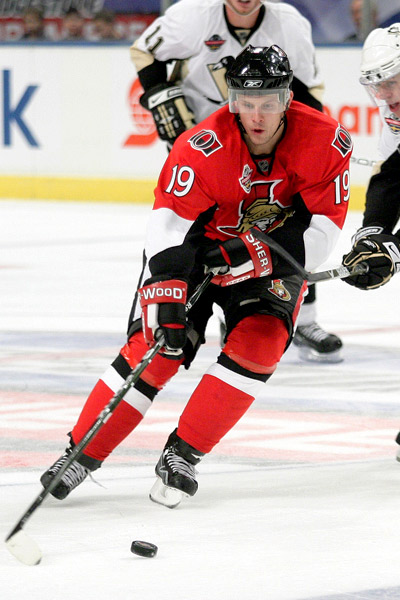 Ok, things would not go well immediately after my last update on the Senators. Ottawa welcomed the Boston Bruins and were such perfect hosts that they forgot to score against their opponents.  Tim Thomas made 29 saves for his second straight shutout and third of the season, improving to 6-0 with the Boston Bruins' 4-0 victory over the Ottawa Senators on Saturday night. Thomas has 20 career NHL shutouts, five against the Senators. David Krejci, Tyler Seguin, Milan Lucic and Jordan Caron scored to help the Bruins raise their record to 6-2-0. Brian Elliott made 21 saves for Ottawa.
However the first week of November has been very good for us. First was a visit to Toronto – Sergei Gonchar and Erik Karlsson scored power-play goals 2:26 apart and the Senators beat the Maple Leafs 3-2 on Tuesday night in a game that also saw the Leafs lose captain Dion Phanuef to injury. Mike Fisher also scored a goal. Two days later back in Ottawa, Jason Spezza had a goal and three assists as his team beat the New York Islanders 4-1 Thursday night and handed New York its sixth straight loss. Spezza, held without a point in his first two games back from a groin injury, set up goals by defencemen Sergei Gonchar and David Hale before scoring his second of the season to put Ottawa up by three 6:17 into the second. He got his third assist when Chris Kelly scored into an empty net with 12.5 seconds remaining. Peter Regin had two assists.
That brings us to last night and a visit to Montreal to face the in form Canadiens. Alexi Kovalev scored twice for his 996th and 997th career points, and the Senators extended their winning streak to three with a 3-2 victory. Kovalev, who played for Montreal from 2003-09, opened the scoring late in the first period. He added his second goal of the game on a power play 6:42 into the third, a slap shot through traffic past Carey Price that restored Ottawa's two-goal lead at 3-1. Zack Smith, who was recalled from Binghamton also scored.