Shawny, my dog, my companion & my best friend of almost 11 years died last afternoon. She had not been well for the past few days. It started with her just not eating enough, then very little at all. She became quite and not as active as she normally is. My dad & I thought it was just something she ate that upset her; she did tend to eat rotten fruit that fell from the trees in our yard. Then she stopped coming to greet me when I came home from work late at night.
This Saturday when I went to her kennel, she only wagged her tail when I called her name but didn't even lift her head and her back was turned away from me. My dad & I decided to get a vet but he could come to see her only on Monday. He said she had an infection from a fever like pneumonia or something. I went to get medicines for her and we though she would recover from rest & the meds. My dad gave her the dose on Tuesday morning and told me to give her some milk mixed with water. She hadn't eaten anything except maybe some gruel water. She was drinking water. She kept whinning when I went to give her the milk but she couldn't get up. Then later that afternoon when I went to check on her, I found her lifeless body. I can't remember crying this hard and I broke down. My uncle got some guy to come and dig a grave for her to the side of my house and we buried her there. As they guy was filling up her grave, I spotted her bowl – the aluminium bowl we gave her food in. Shawny loved to play with the bowl, often tipping it over even when I filed it with water and carry it in her mouth. It was her way of playing with me or my dad. She would also bring it to the top of the stairs outside the front door at night and drop it so it hit every step on the way down, making a loud racket and wake my parents and me. Seeing the bowl, I picked it up and dropped it next to her in the grave.
I'll never get another dog again in my life. Wouldn't be fair. Shawny was more than a dog to me, she was my best friend. I am a dreamer, I dream about fanstic voyages, through space, through different planets & stars & distant galaxies in spaceships manned by anderoids & humans. I have thrilling adventures that are so exciting – and in each one, by side was Shawny. She can never be replaced. I am an athiest so I don't belive in heaven. Who knows what happens after death right? But I know, that if there is an afterlife or something of that sort, when it's my turn to die, waiting fro me on the other side will be the best, most beautiful Golden Retriver in the world – my Shawny!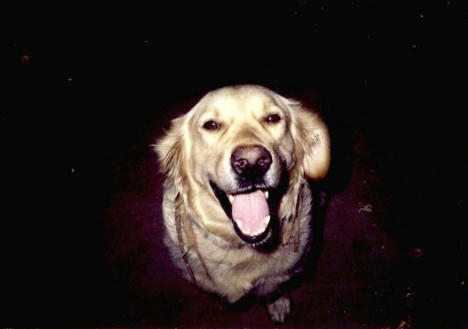 SHAWNY meet wally sparks movie
b.Sept.1, 1994 – d.Apr.26, 2005
I was lucky to have had you in my life
Our Lady Peace – Thief
======================
I don't want to understand this horror
There's a weight in your eyes
I can't admit
Everybody ends up here in bottles
But the name tag's the last thing you wanted
As the world explodes
We fall out of it
But we can't let go
Because this will not go away
chasing christmas online
There's a house built out in space
I can't see that thief
That lives inside of your head
But I can be some courage at
The side of you bed
I don't know what's happening
And I can't pretend
But I can be your, be your
Someone help us understand
Who ordered this disgusting
Arrangement, time and the end
I don't want to hear who walked
On water, because the hallways are empty
And the clock ticks
As the world implodes
We fall into it
And we can't go home
Because this will not go away
There's a house built out in space
I can't see that thief
That lives inside of your head
But I can be some courage at
The side of you bed
I don't know what's happening
And I can't pretend
It's a long, long get away
It's a long, long get away
Make it home again
Make it home again
It's a long, long get away
It's a long, long get away
I can't see that thief
That lives inside of your head
But I can be some courage at
The side of you bed
I don't know what's happening
And I can't pretend
But I can be your, be your