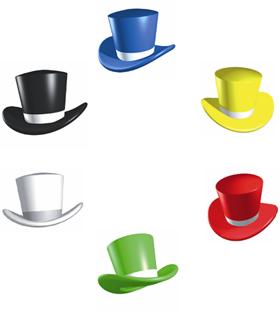 I was part of a training/workshop today which was conducted by my boss, who is the Sr.Manager of Training & Quality for Tamil Nadu & Kerala regions and who is based out of our Tamil Nadu office. It was held in the Java conference room (a really small one) of the Hotel Park Residency in Kakkanad.
For those who aren't aware, 6 Thinking Hats is a thinking tool for group discussions based on "parallel thinking" -a term coined by the implementor of the concept of an alternative to adversarial or tradional thinking. Parallel Thinking is defined as a thinking processsing where focus is split in specific directions. When done in a group it effectively avoids the consequences of the adversarial approach (as used in courts).
It's pretty good and a very useful tool if used with earnestness. I look forward to implementing it in some discussions & meetings.