Episode 3 is the actual pilot for the show because episodes 1 & 2, as a two parter, serves as a prologue to Discovery in a way. We finally get the see the ship in question and which shares it's name with the title of the show.
Episode Synopsis:
Six months into her sentence, Burnham is on an unexpected prison transfer when an emergency forces her shuttle to be rescued by the USS Discovery. Spending several days on the ship, Burnham is ordered by its captain, the mysterious Gabriel Lorca, to assist with a scientific assignment. Burnham overhears Lieutenant Paul Stamets, an astromycologist who is leading the assignment, discuss an upcoming experiment with a colleague serving on another starship; Lorca is soon informed of an incident on the Discovery's sister ship, the USS Glenn, that has killed the entire crew. Stamets leads a boarding party to investigate and finds the dead crew hideously twisted and malformed, as well as a group of Klingons killed by an unknown creature. Lorca later asks Burnham to work for him, despite her sentence, explaining that he organized the circumstances that led her to him so she could help develop a new way to fly that could win the war she started by killing T'Kuvma. He also secretly has the creature transported aboard the Discovery.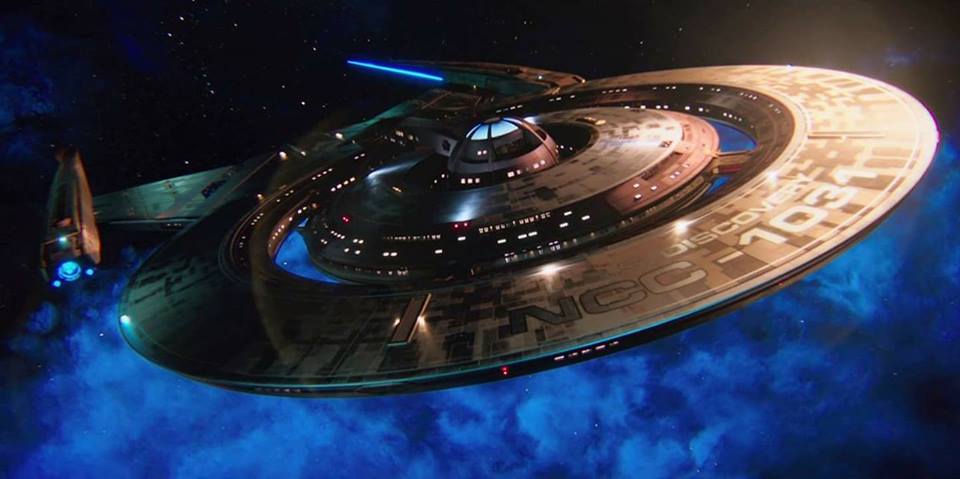 A shell of her former self Burnham is a defeated figure having accepted her fate and her imprisonment. She is though still a badass and takes no nonsense from two of the prisoners who seem to want to attack her as family of one of the prisoner's were killed in battles with the Klingons. The shuttle carrying her and three other prisoners being attacked by a space spores and the pilot is lost but the shuttle is rescued by the Discovery – there is no way that captain Gabriel Lorca did not plan it? He is dark and mysterious, with the onset of war perhaps only enhancing what was already there.
This episode marks the first appearance of series regulars Anthony Rapp (Paul Stamets), Mary Wiseman (Sylvia Tilly), and Jason Isaacs (Gabriel Lorca). Conrad Pla, Elias Toufexis, and Grace Lynn Kung, who respectively play prisoners Stone, Cold and Psycho in this episode, all play or have played roles in The Expanse, another science fiction TV series. The Discovery is working on a faster way to move through space or atleast Stemets is heading the project and Lorca wants Burnham to help as she is, in Saru's words, the smartest person Saru ever met.
We are introduced to the bubbly Cadet Tilly, who seems to be autistic perhaps (She mentions "special needs" ) and who is assigned to bunk with Burnham. Tilly is a quick fan favourite as an adorkable character but one who also is more than she seems and is aware of the darkness in the ship. We also meet Landry, Discovery's badass, no-nonsense, tough as nails head of security. Her colourful language when referring to the prisoners may not be what we have come to expect off from Starfleet officers but she definitely is a badass.
We also meet Stamets who is the gay main character and who is the arrogant scientist who rues Starfleet and the military's stranglehold on scientific experiments in the name of creating weapons and in the face of war. He also butts heads with his captain, who he clearly does not like. The question on many fan's minds is – is the Discovery part of a covert operation run by Starfleet's secret/black ops division, Section 31? That would totally make sense with the way things have been depicted. e also see a lot of black insignia on the ship, which is leaving many to speculate about Section 31's involvement.
Lorca certainly has charm to boot along with his dark persona and he is the kind of captain who will stop at nothing to achieve his goals. But are they his alone or his superiors' too? We also get to see the Discovery's sister ship, the doomed USS Glenn, on which Stamet's work partner was stationed, Starfleet having separated them to get them to work more efficiently and to make room for more experiments. The experiments go badly and a boarding party which includes Landry, Burnham, Tilly & Staments along with secruity personnel is sent to investigate.
No crew has survived and they also find several dead Klingons. Tilly sees a live Klingon who sushes her and is then attacked by a large dangerous creature. The crew minus a few security personnel manages to escape but Lorca has the creature secretly transported aboard the Discovery and held behind a forcefield, before having the Glenn destroyed. Lorca also reveals some of his intentions to Burnham, enough to keep her on the ship (and he seems to have enough clout to keep a convicted prisoner sentenced to life on his ship and working on secret projects) and entices her by asking if she didn't want to help him end a war that she started. He is working on not a weapon to kill, but an organic propulsion system that would allow them to travel galaxies in a mere instant. This, he believes, will allow them to win the war. To prove his point, he has her step into a chamber and takes her on a journey around the galaxy in a matter of moments.
So what's up with Lorca? What mysteries will unfold as the season goes on. The ratings have been pretty good for this episode and I too really enjoyed it. It's not my vision of Star Trek – or most fans vision either – but it looks to be a good show. 8.5 outta 10!