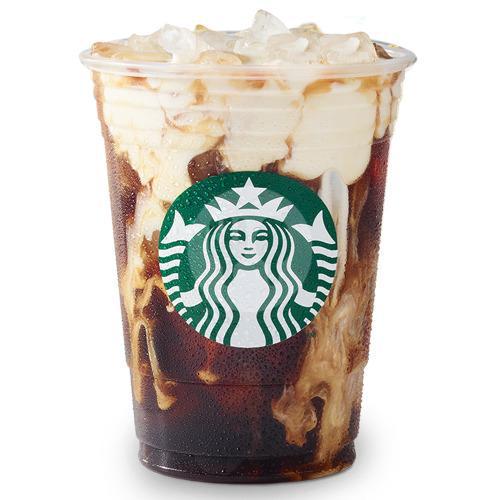 A slow-steeped custom blend of Starbucks Cold Brew coffee accented with vanilla and topped with a delicate float of house-made vanilla sweet cream that cascades throughout the cup. It's over-the-top and super-smooth.
If you have a problem with just the cold brew – I might never order just the plain cold brew as it is their black coffee with ice. After Starbucks' Cold Brew first launched at Starbucks, they talked a big game about how it would be iced coffee but more. It however will taste like a good premium black coffee over ice. Then they started experimenting with, releasing a variety of new Cold Brew versions one of which is the Vanilla Sweet Cream Cold Brew. The vanilla cream adds just the right amount of punch, without stepping all over the flavor of the cold brew underneath.
You should watch your barista make it. The way the cream is splashed in and mixed with a little shake is weirdly magical. The cream seeps into every corner of the drink and just kind of stays mixed in there. Anyways, if you like the taste of coffee with it's bitterness you will love this. a smooth coffee experience tinged with a some acidity at the tail end. You're not going to get the harsher, bitter or charred notes that sometimes accompanies their brew. The combination of vanilla and cream also rounded out the citrus-y end note. The coffee flavor is strong and, unlike a lot of their syrup-flavored drinks, it's very much the star rather than a bit player.
8.5 outta 10 for me!