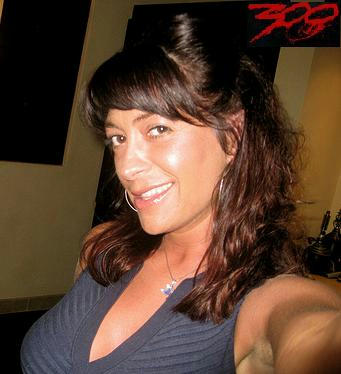 I don't have many frequent readers, just a handful of loyal people who read & comment. Some people, like a few cousins & friends read them but don't discuss the topics at all. I've seen colleagues who read them as well and tell me about it at work the next day. I appreciate all readers but it's time for me to give a shout out to one really special lady, a New Jersey woman named Meleah Rebeccah Hawthorne.
As you can see by the tally of comments on the sidebar, she's encouraged me to continue writing 300 times. I can't believe that someone would spend so much time to read, absorb and comment on the stuff that I dole out but she does. As do some other people but she does it more frequently. As far as my personal cheerleaders goes (with regards to this blog & writing) she is top gun, numero uno. And as you can tell – she's one hot Mamma!
I read her blog a lot and she's been kind of an inspiration for me and a whole lot of others. So thanks for sticking to this blog for over two years (judging from the comments, you started reading my stuff in December 2007 and guess what? It was about VODKA) and I've taken the liberty of adding a "300" sign from the movie onto one of my favourite pics of yours. Thanks a lot Meleah and please keep commenting.