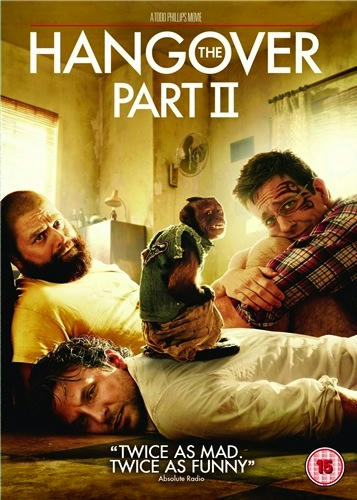 As the first movie was successful & loved, no reason not to make a sequel. I actually liked the sequel or The Hangover Part II as it is titled a little bit more than the first one.  Todd Phillips directed the film in addition to co-authoring the script with Craig Mazin, and Scott Armstrong and once again the film stars Bradley Cooper,Ed Helms, Zach Galifianakis and Justin Bartha (who again misses on the fun). This time tells the story of Phil, Stu, Alan, and Doug as they travel to Thailand for Stu's wedding, 2 years after the events of the first movie.
Stu met & fell in love with Lauren (Jamie Chung) who's family is from Thailand and hence the wedding is to take place in Bangkok. Phil & Doug convince Stu to invite Alan to the wedding and they go to see him at his house. Stu wants to be safe and only agrees to a subdued pre-wedding brunch rather than a big night party. Lauren's younger brother Teddy is also with them. After they land in Thailand it is obvious that Lauren's father doesn't approve of Stu and even manages an insult to him during the family dinner. At the end of the night, Stu hesitantly joins Phil, Doug, Alan and Teddy for a beer. Sitting at a campfire and roasting marshmallows, the group toast to Stu and Lauren's future happiness.
And that's when the craziness begins:
The trio wake up the next morning, hungover,  along with gangster Leslie Chow and a chain-smoking capuchin monkey, in a dirty hotel room in Bangkok. And Alan's head is shaved and Stu has a face tattoo, much like Mike Tyson. They can't find Teddy but they do find his severed finger!
Chow – nutcase character – seemingly dies after taking a snort of cocaine before he could tell them what had happened during the night. Scared the 3 dispose of Chow's body in an ice machine.
They call Doug, who had left the others much earlier, and are lead to the police station to release Teddy – only it's a Buddhist monk in a wheelchair. And he won't tell them anything as he has taken a vow of silence. They then track down the tattoo parlour where Stu got his tattoo and a sex club where they learn that Stu had sex with a transgender prostitute!
When they leave there they are shot at by Russian mobsters who are after their stolen money and Phil is shot in the arm. While at the hospital Alan confesses that he added muscle relaxants & some other medication in the marshmellows in order to sedate Teddy. They then meet up with the gangster Kingsley, who demands Chow's bank account code and password by the next morning in exchange for Teddy.
They got back to the hotel ad find Chow still alive who tells them to steal the monkey as he had written down his account code & password on a paper, as he forgets it, and stuck it in the monkey's jacket. They steal the monkey back from the Russian mobsters through a violent car chase, during which the monkey is shot and injured. After taking the code and leaving the monkey at a veterinary clinic, the group complete the deal with Kingsley. Suddenly, Interpol agents appear and arrest Chow. Kingsley turns out to be an undercover agent, who tells the trio that the police have searched all day for Teddy but were unable to find him.
Desperate, and like in the first movie, Phil calls Doug's wife and is about to tell her that they can't find Teddy – when Stu has his epiphany (man this guy should become a detective)! They rush back to the hotel and find Teddy in the elevator, stuck there as the power is out. They rush back to reach the wedding in time for Stu to get married to Lauren, after a little clash with her father.
And we are treated to a song by Mike Tyson, who sings very badly, and entertains the crowd
And ofcourse we see the events of the night in photos, much like the first movie. It's fun, it's a laugh riot and it's good. 8 out of 10!