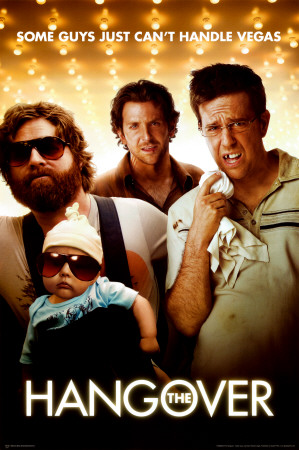 From the time that the movie came out, The Hangover has been claimed to be a great film, a great comedy and one of the most funniest films of the decade. Most people I knew who watched it raved about it. It was all over the internet. I even know of a few people here who don't watch many English language/Hollywood movies at all – and even they loved it a lot. I dunno why I never got round to seeing it till this afternoon but I can't understand what all the fuss was about. I didn't find it to be that great!
Ok I didn't say it wasn't a good film or that it isn't funny. It is funny but not that funny. Maybe I built it to be so much based on the hype but I wasn't that impressed with the film. I have seen a lot better. It's a good film and I would recommend that you watch it but ….. you get the idea! Here are some points on the movie:
Guys on a drinking trip, in Las Vegas, things going wrong – its a formula that will always work. Nothing like a guy bonding film to attract the young crowd.
Las Vegas is the ultimate party town – if you have the money. And if you want to get married!
The Mike Tyson cameo was a great idea and it worked.
Heather Graham looks lovely in her small role. I have missed watching her in movies.
I don't like Zack Galifianakis – he just puts me off. But I can't believe that he is 'Davis' from tv's

Tru Calling

! I liked that show a lot and it seems like such a long time ago that I had seen it. He was better in that series.
The tiger in the bathroom angle seems to be a concept borrowed from

Harold & Kumar Go To White Castle

.
The movie makes good use of the music.
I think Ed Helms as "Stu" was the best thing about the movie.
Who is this hottie Alexandra 'Sasha' Baresse? Growl!
I really liked the photo slide show thingy at the end of the movie, which shows exactly what the 4 guys did on the night!
Overall I'd give the movie a 7 outta 10! I don't see myself watching this movie many times over the years.