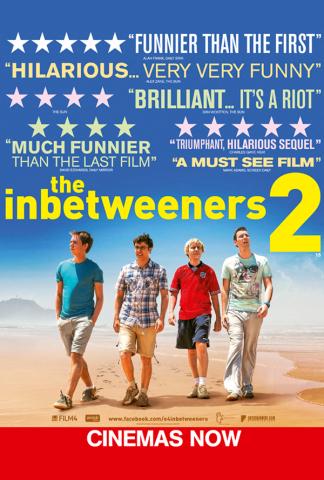 The Inbetweeners 2 is the second movie to be based on the popular British sitcom that originally aired on E4 from 2008 to 2010, after 2011's hilarious The Inbetweeners Movie. While the series was set during the 4 lads high school days and the first movie was a coming of age tale post high school with the boys on their holiday in Crete. This time round it's the 4 lads having a bit of an adventure in Australia.
3 years after the events of the first film Will, Neil and Jay's girlfriends have all broken up with them while Simon is unhappy with his obsessive and abusive girlfriend Lucy. While Neil is working in a bank Simon & Will are depressed and often bullied in college and Jay is taking a year off in Australia. After being denied entry at a dorm party and having Will's furniture taped to his ceiling (again) the 3 of them decided to go join Jay in Sydney after receiving an email about how he is living it up as a star DJ, having sex with a lot of girls and sleeping in a mansion. However when they do make it to Australia they find that Jay was lying through his teeth; in reality he is working as the toilet attendant in the club and sleeps in a tent outside his uncle's house. While at the club Will runs into Katie, who was his friend during childhood. Before they turn in for the night, Simon Skypes with Lucy in an attempt to break-up with Lucy via a Skype call however Jay's uncle interferes and tricks Lucy into thinking Simon asked her to marry him, to Simon's horror.
The next day the four friends travel by car to a youth hostel in Byron Bay where Katie and several other backpackers are staying and Will tries to become friends with Ben who does not seem impressed with him. Will also noticed that his mother seems to be living with someone when he Skypes her, but she denies it. It turns out that Jay was in Australia to try and win back his ex Jane who was working at a water park in Byron Bay and so the next day the quartet visit the park along with several of the backpackers. The staff inform Jay that Jane quit her job and is now in the Outbacks. After a hilarious song & playing of a borrowed guitar Will & a drunk Katie almost have sex but she falls asleep on him and he is mistaken for trying to rape her. In the morning things are sorted out but while the other 3 want to try and find Jane in the outbacks, Will wants to stay back and try his luck with Katie. But that night he struggles to fit in with the 'spiritual' activities of the travellers and on discovering that Katie is seeing multiple people at once, Will gets angry and rants a foul mouth tirade against them, which leads Katie into having sex with Ben. Will catches a plane the next day to reach his friends in an Outback town and joins them in their car.
While driving to Jane's new workplace the car runs out of fuel and stuck in the desert without food or water. A dehydrated Simon almost drinks some urine from Neil but the latter only ends up splashing it on his friend's face. The group hold hands together as they realise that they will most likely die, but are rescued by Jane and her co-workers and it's only been two hours since the car stalled. Although Jane is touched by Jay trying to find her she does not take him back. The boys go back to Sydney and find Will's mom, who has been sleeping with their old nemesis & former school teacher, and Jay's dad there. Jay gets angry at his uncle who insults Jane and slaps him, which causes a fight between Jay's dad and his uncle. Simon finds out via Skype that Lucy has been cheating on him with Pete, his university friend – but he is elated and abruptly closes the call with her. The four boys decide to travel to Vietnam in a montage during the film's credits – they are seen hooking with transvestites! After their return to England Neil starts a relationship with one of the backpackers and Will's mother announces her engagement, much to Will's horror.
Filled with gross, young men's humour and jokes the highlight of the movie is Neil pooping in his swim trunks and the poop "chasing" Will down the waterslide as he screams and it landing on his face only for him to puke violently in the water afterwards. There's ribbing and joking and gross stuff all over the film and not everyone will enjoy that. But I find it hilarious so if dirty English humour is your cup of tea then pop in this film and enjoy. 8 outta 10!