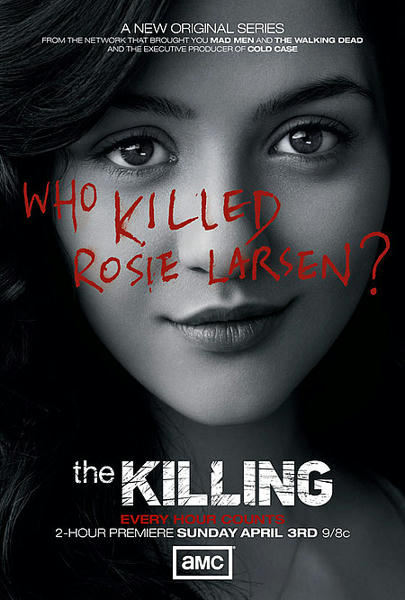 For the first time that I can think of, there is a police drama series about just one case, one murder. I'm not 100% sure that there are other such tv series, maybe a mini-series, but it doesn't look like anything else I have seen. Based on the Danish television series with the same English title, but known as Forbrydelsen (The Crime) in Danish, The Killing was developed by Veena Sud and produced by Fox Television Studios and Fuse Entertainment. The series' first season, consisting of 13 hour-long episodes, premiered on the cable channel AMC (the same network that showcases The Walking Dead) on April 3, 2011, with a two-hour premiere.
The show is about the murder & subsequent investigation of the death of 17 year old Seattle high school girl, Rosie Larsen. Weary Homicide Detective Sarah Linden gets called on her last day in Seattle to investigate a possible crime scene in the woods. A car is found in the lake and Rosie's dead body is found in the boot. She is asked by her LT to show new comer Stephen Holder, who just transferred from Narcotics, the ropes and try to solve most of the case before she leaves to California with her 13 year old son Jack and marry her boyfriend Nick. However she gets drawn into the case due to the political angel – the car was used as a campaign car for popular city councilman Darren Richmond (Billy Campbell), who is battling the incumbent mayor Lesly Adams.
Due to pressure from her LT & her own obsession with the case, Linden keeps postponing her travel to California much to the chagrin of her fiance Nick (Callum Keith Rennie) and her son Jack who starts acting up. Her annoying & shady new partner Holder is also a different kettle of fish than she is used to. The family of Rosie is deeply affected with the mother Mitch (Michelle Forbes) getting deeply depressed and the father Stan Larsen who is a former hitman for the mob. The two young sons cope in different ways – while the middle son becomes quieter and more helpful around the house, the youngest becomes more demanding & cranky. Helping the family during their direst times is Mitch's younger sister Terry, Rosie's aunt. The list of suspects start flowing in. First are the two boys, classmates of Rosie, who had sex with her just before she was killed. A video recording of the two taking turns with Rosie surfaces. Also there is the young, popular teacher Bennett Ahmed, who was Rosie's confidant and it is suspected that he was having an affair with Rosie when Linden finds his letters to the girl in her room. Plus his wife used to be one of his students in a different city & school.
While Linden & Holder investigate Ahmed they find out that he & another man were trying to help an oppressed young Muslim girl escape to Canada, in order to avoid being married off against her will. The suspicions of the cops on Ahmed reaches the ears of Belco who informs his boss & friend Stan Larsen. At Rosie's funeral Stan offers a ride to Ahmed and confronts him; Ahmed denies his involvement in the murder. Later however, when his wife pushes him, Stan & Belco kidnap Ahmed, drive him to a quite place and beat him unconscious & near death. Mitch however finds out from the cops that Ahmed has a solid alibi and could not have killed Rosie and informs Stan, who feels guilty & turns himself in. He is later bailed out by Terry. The focus now shifts to Richmond who it turns out knew Rosie and photos of him meeting her are sent to his campaign manager & lover Gwen Eaton (Kristin Lehman). Feeling betrayed & confused she tells Linden that his alibi for the night of Rosie's murder, being that he was in bed with Gwen, was all true as he has left in the night and returned a couple of hours later.
Through her computer, Linden & Holder find that Rosie has visited an escort site tied to a casino and that Terry has worked as an escort. Using the camera footage at the ATMS outside the casino, they find that a dolled out Rosie had been to the casino on the night of her murder and that she has possibly been moonlighting as an escort. When Holder finds photos of Richmond driving the same car and taken by a traffic stop camera with a time stamp that puts him near the casino around the time of Rosie's death, a warrant is issued for her death. Linden leaves with her son to the airport to go to California while Richmond is arrested while at a campaign rally in front of his supporters. However, Belco, who is mentally unstable & immature, approaches the councilman as he is being led away and shoots him. As Linden's plane is about to leave, she gets a call from the local government office informing her that the traffic signal cameras in the area near to the casino were not working – meaning either Holder forged the photos or he got them from someone who forged them. As the season ends, we see Holder meeting with his former boss at Narcotics and telling him that Richmond has been arrested.
What is the big conspiracy behind the murder? Is it a political thing or is there more to it? Is there a mob involvement, due to Stan's past? Each of the 13 episodes in season 1 represents a day of the investigation, i.e. episode 13 takes place on the 13 day of the investigation. Some solid acting by Mireillie Enos as Sarah Linden & Billy Campbell as Richmond helps solidifying the series. Also starring are Liam James, Joel Kinnaman, Brent Sexton, Eric Ladin and Annie Corley. Brandon Jay McLaren, Garry Chalk, Patrick Gilmore & Tom Butler have recurring roles along with Rennie. Great series set in Seattle and shot in Vancouver during torrential rainfall to add to the dark, grey imagery of the theme.