It's been a while but I am finally back to my review of the episodes from The Orville. Episode number 3 is one of my fav scifi episodes of all time. It is just wonderful the way they spun the story.
When Dr. Finn refuses Bortus and Klyden's request to have their daughter undergo sex reassignment surgery, which is standard practice for Moclans on the very rare occasions when a female is born, the parents petition Mercer to order the procedure. Mercer refuses, as he (and the rest of the crew) object to performing such a procedure on a healthy infant, so Bortus and Klyden arrange to have the procedure performed on a Moclan vessel. Gordon and John change Bortus's mind by showing him Rudolph the Red-Nosed Reindeer, but Klyden still wants to proceed, revealing that he was born female.
The case is arbitrated on the Moclan planet, Moclus, where Grayson represents Bortus; she casts doubt on the idea of male superiority by demonstrating that Alara is physically strong and Gordon is stupid. Ed locates a female Moclan of advanced years, Heveena, who testifies that she lived a happy and fulfilling life in seclusion, and reveals that under the pseudonym "Gondus Elden", she has become an esteemed novelist on Moclus. But Klyden and the tribunal are unconvinced, and the baby undergoes the surgery. Despite their disagreement, Bortus and Klyden are committed to one another and to giving their son, Topa, a good life.
Talk about a deep subject in the midst of the comedy. This is scifi tv at it's best, using a futuristic setting to talk about humanity's issues which are happening now and have happened before and will probably still continue. The way it ended, sad for me, was brilliant – if the Moclan had come to the decision to not have the baby undergo the sex change operation to turn it into a male, it would have been cheesy and predictable. The ending was touching and realistic. Very good writing. This episode is a perfect 10 for me, considering that the show is basically a spoof.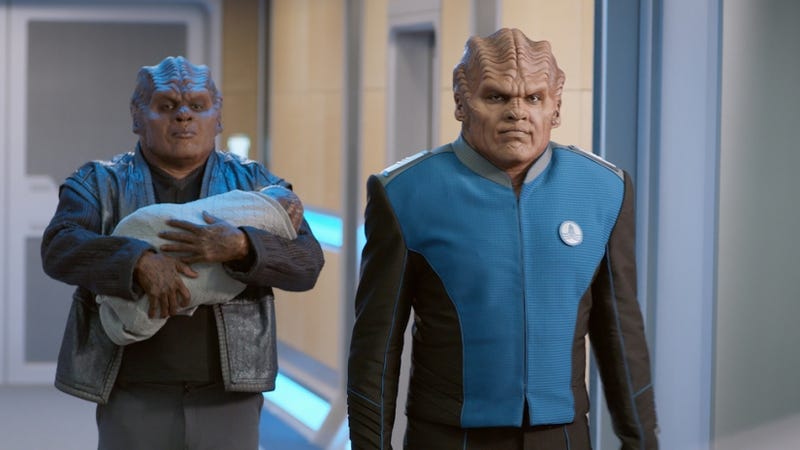 The Orville encounters a huge, 2000-year-old derelict ship drifting into a star. Mercer, Grayson, Kitan, Finn, and Isaac enter, discovering an artificial biosphere and a civilization of 3 million who worship an entity called Dorahl, and do not know they are on a ship. Grayson is held prisoner by their theocratic dictator Hamelac, who imposes a death penalty on "Reformers" who believe anything exists beyond the known world. While Bortus takes the Orville to save a colony ship from a Krill attack, Grayson's crewmates rescue her and lead a group of Reformers to the alien ship's bridge.
An ancient recording from Captain Jahavus Dorahl (a surprise cameo by Liam Nesson) reveals that it was a generation ship disabled by an ion storm. Isaac initiates repairs and opens the hull's window, enabling the populace to see stars for the first time, moving even Hamelac. Mercer makes arrangements for the Union to train the people to operate their ship. Meanwhile, Klyden is frustrated that Bortus's duties leave him little time for family.
This type of storyline has been done before in Star Trek yet the context is still done well. No doubt a dig at totalitarian regimes, religious dogma and societies unwilling to change, this is also Scifi at it's best. And they kept the comedy to a lesser degree in an episode in which Alara is seriously injured and in which Kelly is captured and tortured. The Liam Neeson appareance threw up for a loop. Expecting more such surprises and oh we are getting a hot super star in the next episode. A 7 outta 10 for me.