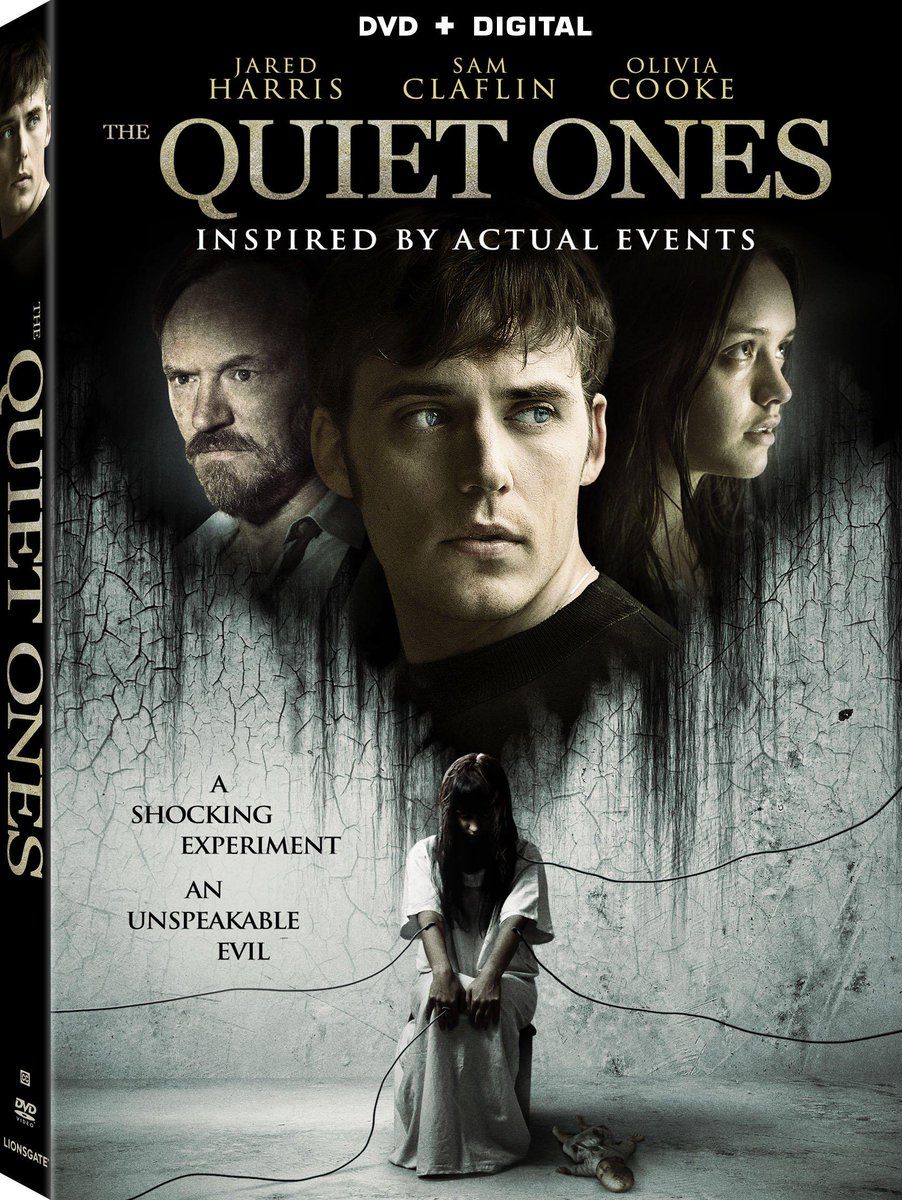 The Quiet Ones is a 2014 British horror film & Hammer production directed by John Pogue. The film stars Jared Harris, Sam Claflin, Olivia Cooke, Erin Richards & Rory Fleck-Byrne. The film is set in the 70s and is loosely based on the Philip experiment, a 1972 parapsychology experiment conducted in Toronto.
Oxford professor Joseph Coupland aims to prove that supernatural does not exist and in his class shows footage of a boy from several years ago who appears to be possessed and states that his research will cure for psychological diseases like this. One of his students, Brian McNeil, is invited to film the experiment process and joins Coupland, his two assistants Krissi and Harry, and their subject Jane Harper, a young woman who generates strange phenomena and has been abandoned. Jane is generally kept locked in a room with loud rock music playing during the daytime to prevent her from sleeping in the hopes that the psychological agitation will result in increased activity. When his funding is taken away, the professor packs up Jane and invites Krissi, Harry & Brian to an isolated house in the countryside to keep experimenting on Jane.
The first proof that things aren't quite safe is that the door to their van opens and closes on it's own after the 5 of them have gone in. Soon Jane's negative energy takes the form of "Evey" a baby doll like creature only she can see. Coupland instructs Jane to transfer her negative energy into a physical doll so they can destroy it. As the experiments drive Jane to the brink of insanity, strange things keep happening in the house. Brian meanwhile is upset at the unethical treatment of Jane and has begun to have feelings for her. Evey's apparitions become more violent as anything that the people do to harm Evey ends up causing harm to Jane. Coupland, however, refuses to stop the inhumane experimentation as he is irreversibly convinced that "Evey" is merely a conventionally treatable, parapsychological disorder in Jane's head, but the others become convinced over time that Evey is a true malevolent, supernatural force.
After another attack on the group by "Evey" Brian goes back to Oxford and conducts research on a symbol that was carved on Jane and he finds out that is from a cult who worshiped a Sumerian demon. They performed experiments on a young girl a few years ago; their leader believed that Evey Dwyer, a girl with clairvoyant abilities, was the one to bring their "idol" into the physical world. Everybody in the cult died in a house fire that Evey set, including Evey herself. Brian returns and tells them about the cult, certain that Evey is a demonic presence who is possessing Jane. He convinces Harry and Krissi, but Coupland denies his theory and responds that Evey must be a figment from Jane's past rather than a demonic force. The 4 of them are soon painfully marked with the same symbol and later it is revealed that the boy in the experiment was Coupland's own son and he is driven by his desire to cure his son, which upsets Jane who feels used.
After an attack on Krissi in a bathtub, Krissi & Harry are killed brutally by an unseen force. Jane realizes that she was the little girl that supposedly died in the house fire; she was born with clairvoyant powers and had set the house on fire to kill everyone. The authorities changed her name to Jane to give her a normal life, and that's why all her negative energy is manifesting; Evey is not a demon, she is Jane's real identity (one who can't escape the trauma of her past life). Evey attacks Brian but Coupland knocks her out and then Brian too, typing him to a chair owever, before Coupland can prove his theory, Brian saves Jane and subdues Coupland. Once revived, Jane locks him out of the room and commits suicide by setting herself on fire. The movie ends with a now institutionalized Brian who is now clearly mad, asked questions by someone off camera about the 4 deaths and he is told that everything in the house, including the films, were destroyed by the fire. Brian laughs manically and his hand starts to smoke, just as Jane's did.
Interesting story but a very dully and almost boring movie. Vry little to scare you but I do feel sad for the Jane character. Helps that she is played brilliantly by the rather sweet & pretty actress Olivia Cooke. Though the rest is drawn out and the movie is tedious to sit through as nothing exciting happens. 6 outta 10!