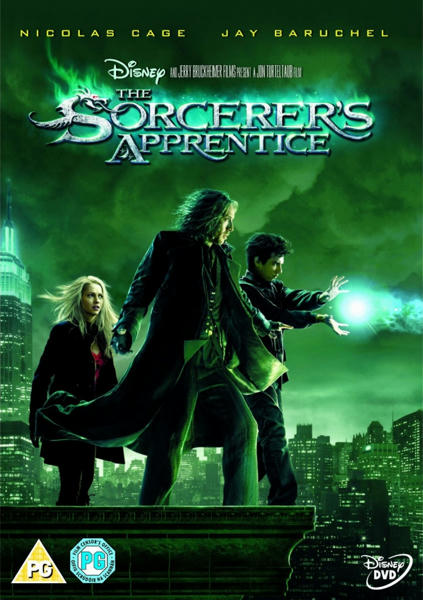 The Sorcerer's Apprentice is a 2010 fantasy adventure film, produced by Jerry Bruckheimer, directed by Jon Turteltaub, from Disney. Starring Nicolas Cage, Jay Baruchel, Alfred Molina, Theresa Palmer, Alice Krige & Monica Bellucci. The film is named after the The Sorcerer's Apprentice segment in Disney's Fantasia (with one scene being an extensive reference to it), which in turn is based on the late 1890s symphonic poem by Paul Dukas and the 1797 Johann Wolfgang von Goethe ballad.
The plot of the movie is Balthazar Blake's (Cage) hunt for the Prime Merliner, who he finds is a young 10 year old boy living in Manhattan named Dave Stutler and who will one day inherit the powers of the great sorcerer Merlin. Balthazar, a former appretice of Merlin, has to fight off Maxim Horvath (Molina) another of Merlin's students who betrayed him to y joining forces with the evil sorceress Morgana le Fay (Alice Krige). In a fight between Morgana/Horvath against Balthazar, a third apprentice Veronica stops her by imprisoning Morgana and Veronica in the Grimhold, a magic prison in the shape of a nesting doll. Throughout history Balthazar imprisons Morganians, sorcerers who try to release Morgana, including Horvath, into successive layers on the Grimhold while he searches for the successor.
10 years before the main events of the movie Balthazar finds the Prime Merliner aka Dave who happens to visit his antique shop. However Dave accidentally releases Horvath and while battling for possession of the Grimhold, Balthazar and Horvath are imprisoned in an ancient Chinese urn with a ten-year lock. No one believes Dave as when others enters the store, there is no trace of the battle. 10 years pass by when the urn is opened, releasing Horvath & Balthazar. Balthazar must now recruit Dave, convince him of his abilities and teach him to use his powers. Horvath meanwhile takes a famous magician to assist him in his endeavors. Throw in the love angle of Dave (Baruchel) and his childhood crush Becky (Palmer).
Visually I loved this movie and the effects are convincingly enough for even the most cynical fan to appreciate this film. Plot & acting wise there is nothing special to the movie; you basically know how everything is going to work out. Jay Baruchel basically provide all the fun elements of the movie with his humour and ranting. Cage is cool & suave as the grizzled veteran and I always like Molina as a villain. Unfortunately both Alice Krige & Monica Bellucci have very little screen time and are underused in the movie. Theresa Palmer is lovely as usual. There's the animated steel eagle created out of a Chrysler Building gargoyle, a charging metal bull & a Chinese paper dragon that morphs into a real fire-breathing one. Good enjoyment for an afternoon.
7 outta 10!