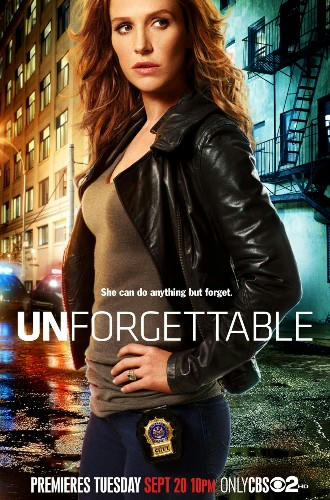 Unforgettable is a crime/police tv series originally ran on CBS from September 20, 2011 to May 8, 2012. I've been following this series on the internet, watching episodes online or downloading them. How is this series different from the other cop & detective shows you ask? Well the series is focused on the lead character detective Carrie Wells (Aussie actress Poppy Montgomery) who has hyperthymesia, a rare medical condition that gives her the ability to visually remember everything. Yes everything from the age of 8 when her sister was killed, ironically the one event that she cannot remember much off but desperately wants to. After her sister's death Carrie started to observe things and her ability to remember each details helps in solving cases.
Carrie was a former Syracuse, New York detective who left the force 9 years ago as her obsession with finding her sister's murder kept interfering with her work. She kept following up on leads and even over interrogating suspects so much that her lover & training officer Al Burns had to restrain her on occasion. After 5 years on the force, her sister's murder investigation was shut down, Carrie wanted a new life and moved to New York City to put her past life behind her. She also brought her mother who suffers from early onset of Alzheimer's disease and is currently living at a recovery home. Carrie starts helping out at the recovery home and using her memory to help her count cards and win at gambling to finance her life and her mother's medical bills.
9 years have past when by chance she meets up with Lt. Al Burns who now heads the homicide team at his precinct. When a woman in killed in Carrie's building, Carrie is pulled into the investigation and upon it being solved is asked by Burns to return to active cop duty and join his team. She reluctantly agrees as Burns also says that she can reopen the investigation into her sister's murder and work on it during non-case days. She also finally remembers the face of the killer she saw. Most of the initial few episodes focuses on Carrie's ability to recollect things, putting herself in the scene as she replays it in her mind. The producers of the series show her watching herself and scenes unfold as she looks back for details that she may have missed. This is done a lot initially to establish her abilities in the viewers minds as much as possible before they go into more interesting cases later on in the series. Indeed the feel of the show in the last say 8 episodes is a different as the series steps up a notch and things become even more interesting.
Dylan Walsh plays Burns who is still good friends & protective of Carrie. He knows that she sometimes does things her own way to solve a crime or bring a criminal to justice.Kevin Rankin plays Det. Roe Sanders a junior detective who's one of Carrie and Al's co-workers. He tends to make good-natured jokes about Carrie's ability. Michael Gaston plays Det. Mike Costello a veteran cop and Al's right-hand man. Daya Vaidya plays Det. Nina Inara a sassy, street-smart typical NYC cop. Later on in the show two additional characters are added – Jane Curtin as Dr. Joanne Webster, who becomes Carrie's friend, is an experienced Medical Examiner of the NYPD. She becomes Carried confidant and helps her in finding a lead for her sister's killer. And Britt Lower who plays Tanya Sitkowsky, the department's techno-whiz who does analysis and all over technical stuff. She and Roe like her other.
When a persistent ADA Adam Gilroy comes into the picture, helping Carrie and later turning on her and framing her for murder, a huge fraud is discovered – Gilroy is actually a brilliant former criminal who traded places with his attorney many years ago as they were of the same build and closely resembled each other. A little plastic surgery did the rest and for almost 20 years 'Gilroy' has been a lawyer. His role in framing Carrie and killing a couple of people is found out and he dies when he falls off a bridge. In the season finale Carrie goes back to Syracuse with Burns to trace her sister's killer when a girl is killed in the same fashion as Rachel. However the man they caught turns out to be someone who found Carrie near her sister's dead body and not the actual killer. However this man, a former cop, had bee trying to find out the real killer as well and some of his notes may help Carrie in her investigation. They find a man who killed the girl in Syracuse but the former cop dies in the chase.
As the season ends Burns takes Carrie back to NYC, having renewed their love for each other. What's in store for season 2? Dunno but I like this show especially the last 8 or so episodes when it shifts into a higher gear. The characters are good and especially Poppy Montgomery – hot, killer body, pouty lips, red hair man – oh man!! Schaaaawing!!!