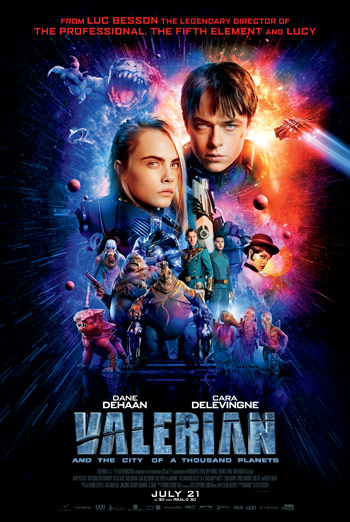 Valerian and the City of a Thousand Planets is a 2017 French science fiction action-adventure film written and directed by Luc Besson and co-produced by Besson and his wife, Virginie Besson-Silla. The film is based on the French science fiction comics series Valérian and Laureline, written by Pierre Christin and illustrated by Jean-Claude Mézières. It stars Dane DeHaan as Valerian and Cara Delevingne as Laureline, with Clive Owen, Rihanna, Ethan Hawke, Herbie Hancock, Kris Wu, and Rutger Hauer in supporting roles. Besson independently crowd-sourced and personally funded Valerian and, with a production budget between $177–209 million, it is both the most expensive European and independent film ever made.
Mankind's progress in space exploration is shown where they form a large space station called Alpha and gradually they meet representatives of various space faring alien races throughout the years and centuries, forming alliances. By the 28th century, Alpha has grown in size to accommodate millions of creatures from all these races, working in several various habitats. Valerian and his partner Laureline are special agents of the human police forces. The story is about how these two are sent on a mission to retrieve a rare object that belongs to a race of peaceful aliens in order to cover up an earthling military act that wiped out almost all of that alien race and their planet 30 years ago. Valerian was chosen by an alien princess just as she died to receive some of her memories, as she sent them out through space & time in a burst of energy.
What we get in this movie is a visual feast with weird and wonderful looking alien, a beautiful alien planet and beach, some wonderful gadgets and tech and a fun, fast paced ride. Stunning backgrounds of these alien worlds, the latest in visual effects and green screen and computer wizardry all combine with a rollercoaster ride of epic space opera proportions that puts to shame other such attempts. With jellyfish that eat memories, aquatic monsters the size of cathedrals, bazaar so bizarre its exists simultaneously in different dimensions, a creature named Bubble that can enter you and take other forms at will, to awesome spacecrafts, the peaceful alien race using pearls, that generate large amounts of energy, from their beautiful oceans to use for their needs and feed to a native cute animal that eats a pearl and spontaneously poops out replicas in the hundreds – what an imaginative world this is!
Sadly, I knew it would not be a success as the films lacks character, chemistry and story. The charisma is lacking from the leads and character development isn't really there. A small cameo from an actor of the status of Rutger Hauer didn't help, as didn't the roguish brief appearance from Ethan Hawke in a totally non-Ethan Hawke role. Why do directors want rappers and pop singers to be actors? Ugh, Rhianna is terrible and I was glad that she was mostly in her character's actual form – a squid-octopus-watery creature! One ridiculous jelly fish incident and the largest hat in the galaxy moment also was detrimental to the film. Luc Besson doesn't want serious scifi and while his The Fifth Element worked awesomely well it didn't with Lucy or Valerian (even if Lucy did become a box office hit, it was critically panned)