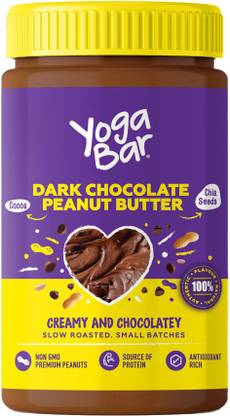 If you like dark chocolate and peanut butter than one of the options you can try is the YogaBar Dark Chocolate Peanut Butter. This is from their latest range of food products that are heavily advertised online has a delicious taste. I am used to their YogaBar protien bars which are really good but they also have peanut butter and oats. Now the dark chocolate ones come in either crunchy or creamy but I never buy the crunchy ones.
The most valuable feature is the peanuts are slow-roasted. It is said that the more roasted peanuts are, the better it is. How does it taste? It isn't very sweet and infact is not as sweet as most regular peanut butter. It has it's natural oil when you open it, so it is best to do a good mix before you use it. Best with toast or buns or chapathi. You get the taste of dark chocolate a lot more than the peanut butter but after you take your first chew you will slowly get the texture of peanut butter. It has 26% Protein per serving, is high in fibre, zero Trans fat & Zero Cholesterol.

Ideally do not refrigerate it, though you can. Instead store it in a cool, dark place and enjoy whenever you want to get that toast or chapati. I dunno if this is gonna replace the usual brands of peanut butter I buy right now, since it has chocolate in it but it sure is good. 4 outta 5 stars or 8.5 outta 10!