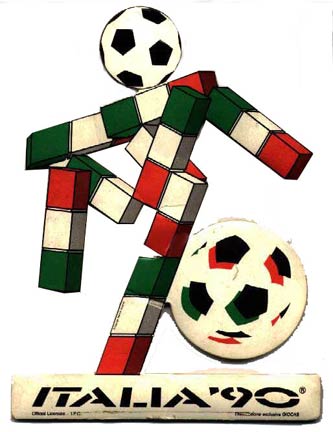 My first World Cup once back home in India was Italia 1990. I had just started my 9th standard (grade) in school and 2 weeks in the World Cup started. We even had to write an essay about the World Cup in English class! At age 14 I was able to get permission from my parents to stay up late and watch the late night matches even on school nights. And yes this was the first world cup that I watched most of till then.
My favourites were ofcourse Argentina and I was supporting and cheering for them until the very end. Italy was a strong favourite of many with Roberto Baggio in form. It was the most watched world cup till then but it was also one of the most defensive ones as well. Following the 1990 World Cup, the back-pass rule was introduced in 1992 to discourage time-wasting and overly defensive play, and wins were awarded three points in the group stage of the 1994 World Cup to encourage more attack-minded tactics and discourage the strategy of playing for a draw. Cameroon won a lot of hearts around the globe and Roger Milla, a 38-year-old forward who came out of international retirement to join the national squad at the last moment after a personal request from Cameroonian President Paul Biya, became an international star. Milla's four goals and flamboyant goal celebrations made him one of the tournament's biggest stars as well as taking Cameroon to the last eight. A strong English had Paul Gascoigne or Gazza as fans lovingly nicknamed him and finished 4th, losing to West Germany in the semis. Gazza won hearts for famously being reduced to tears in the semis as a yellow card meant he would miss the final if England made it through.
The West Germany–Netherlands clash was held in Milan, and both sides featured several notable players from the two Milanese clubs (interestingly, three from each side, both in clubs and in national teams: Germans Andreas Brehme, Lothar Matthäus and Jürgen Klinsmann for Inter, Dutchmen Marco van Basten, Ruud Gullit and Frank Rijkaard for AC Milan). After 22 minutes Rudi Völler and Frank Rijkaard were both dismissed after a goalmouth incident. As the players walked off the pitch together, Rijkaard spat at Völler. Argentina, who started badly, losing to Cameroon in the opening match, went to finish as losing finalists. With Maradona in the squad, the Argentines would also see two stars shine – goalie Sergio Goycochea who made many outstanding saves especially in the penalty shootout wins against Yugoslavia & Italy and Claudio Cannigia who dazzled with his dribbling skills. A totally impetuous & unnecessary handling of the ball earned Cannigia a second yellow card in the tournament which meant he would miss the finals. And that was probably the deciding factor in the final, which turned out to be the most cynical & lowest quality final ever.
Two Argentinians were sent out for fouls and a solitary penalty kick goal was the winner in a short tempered affair. With its third title (and three second-place finishes) West Germany – in its final tournament before national reunification – became the most successful World Cup nation, until Brazil won their fourth title in 1994. West German manager Franz Beckenbauer became the only man to both captain (in 1974) and manage a World Cup winning team, and only the second man (after Mário Zagallo of Brazil) to win the World Cup as a player and as team manager. Also of note was Salvatore Schillaci of Italy, who rose to fame by becoming the top scorer of the world cup with 6 goals. However it often looked like he himself was surprised when he scored and sank to obscurity in a couple of years. I remember watching the final with a cousin of mine, just a little while after the 1990 Wimbledon men's final.