I used to love playing table tennis or ping pong as it is known in some countries. It seemed that I used to have easy access to a ping pong table, like at the Cochin Suburban club which was quite close to my home. For a few years, we used to go quite regularly to the club and have family dinners there, with my cousins and uncles & aunts. While the elders drank, we used to go and play table tennis.
Plus I also remember that a couple of my cousins, when they lived in Trivandrum, had converted a spare room into a game room. And they had a makeshift table tennis table in there (which also doubled as their mom's ironing board) and we played a bit there.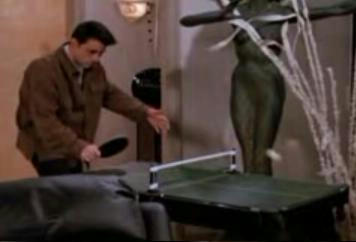 Why the sudden interest in table tennis? Its because I was watching this episode of Friends in which Joey moves out to a new apartment. You know, the one in which he figures that now, since he is making good money due to acting in 'Days Of Our Lives' and the fact that he has never lived on his own, would be a good time to do so. He buys a whole bunch of junk to decorate his room. But the only thing that I liked was the mini ping pong table. It's the one he is playing by himself in the pic above.
I miss playing ping pong / table tennis or TT as we used to call it. I think it's a nice alternative to tennis or badminton. We played a lot of badminton actually but if space is at a premium then the table variety is a great alternative. When or rather if I move out, I'm going to try and find a mini table tennis, like the one Joey has, and keep it in my apartment. I would love to invite you over to play a few sets of a game. Like these two Japanese guys are doing below.