A colleague of mine and I had to go to our client's office in the city for a two day training on a new software that they are launching to automate a lot of things in the process. So we made our way today and reachedt their office at around 10:30 am today for the first day of the training. You would think that this post is about the training or something that happened at the office. It's not!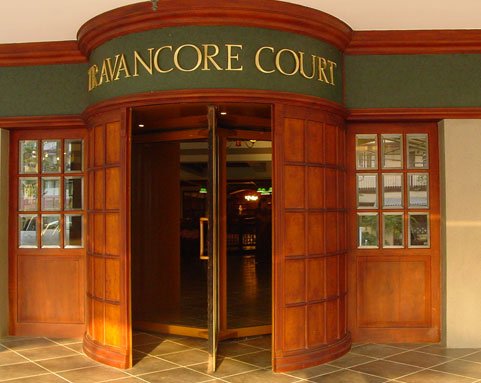 It's actually about food! Our clients decided to take the two of us out to lunch during the break at 1:25 pm. So we took autos and made our way to Hotel Travancore Court, which is owned by a local movie mega star – and mega asshole by the way! But I digress. We were greeted and taken to our table and they served us fruit punch as soon as we had settled down. They had a huge buffet set out on their tables, waiting for us but they served us soup at our tables. The clients had a Chinese veggie soup, while we both had mutton soup (which was bland as hell and yucky).
Onto the buffet – lots of salad, Allepey fish curry, some delicious chicken chettinad, fried cauliflaur, green curry cauliflaur & mutton masala! I had a little of each and I must say that the chicken & mutton were the best. I tried to eat some tamarind  rice (I hated it), an appam and a small piece of butter nan. There were lots of other stuff but that was what I could manage. A little of everything. I was quite full and could not eat any desert.
After our training, the two of us went to get some beer and peanuts at a bar close by. We had pork fingers & chips as well. Nice way to close off the day don't you think?