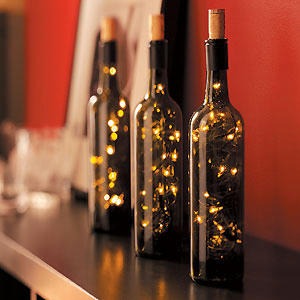 At the moment I cannot afford my own place but someday I will and I would like to own a nice place with a couple of bedrooms+bathrooms, kitchen, living room, balcony and a den/library space. It doesn't have to be really fancy as long as the place is safe and cozy and I have enough space. I'd like to paint the walls differently and decorate the apartment with some cool stuff that need not necessarily be expensive & trendy but it will still look way cool in the place.
I really like this red wall and the awesome looking wine bottles with night lights bunched up inside them. They not only look great but are probably one of the best decoraty- showcase items that you can get to make your place look cool. And practical too – you still get a little light from them in the dark and it adds a certain character to your home.
Once financial things improve, and that will take quite some time as I would want to ensure that thing settle down and not take a huge risk, that's when I will get that place and do a slow & thorough search for things to make my place the way I want it to be. Personally I can't wait to do it and start right now but practically I just cannot.