Official music video for Invincible by Chantal Kreviazuk.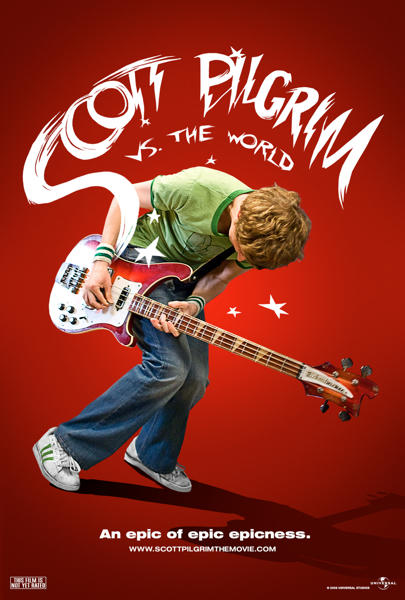 Scott Pilgrim vs The World is a 2010 comedy action movie based on the graphic novel  series  Scott Pilgrim by Bryan Lee O'Malley. Directed by Edgar Wright, the movie stars Michael Cera,Mary  Elizabeth Winstead,  Kieran Culkin, Chris Evans, Anna Kendrick, Alison Pill, Brandon Routh &  Jason Schwartzman. The movie did not fare well in the box office; on a $90 million budget the movie only made $47.6 million in the theatres. However as far as I have read the movie has fared much better on DVD & BluRay sales and has since gained a cult following. The film revolves on a gaming theme with points for defeating opponents, life and highlighting noise & fight effects.
Scott Pilgrim is a 22 year old slacker & part time musician in Toronto, Canada living with his gay roommate Wallace Wells and playing bass for a rock band called Sex Bob-omb with singer/guitarist Stephen Stills, drummer Kim Pine and roadie Neil. He starts to date 17 year old Chinese-Canadian high school student Knives Chau much to the disapproval of his band mates & friends. However he then meets American Ramona Flowers, who has just moved to Toronto, and becomes obsessed with her as she had appeared in his dreams prior to him meeting her. He asks her out and loses interest in Knives.  At a battle of the bands, Scott is attacked by Matthew Patel, who introduces himself as the first of Ramona's "evil exes". Scott defeats Patel and learns from Ramona that, in order for them to date, he must defeat all seven of her evil exes.
Scott then breaks up with Knives and that evening meets up with the second evil ex, action movie star Lucas Lee. Scott tricks him to do a dangerous skateboading stunt and Lucas is defeated. At a concert by Scott's ex-girlfriend  Natalie "Envy" Adams & her band, Scott meets the 3rd evil ex, Todd Ingram, a bassist and current boyfriend of Envy. odd initially overpowers Scott using his psychic vegan abilities, but is stripped of his powers by the Vegan Police after Scott tricks him into having coffee with half and half cream, allowing Scott to defeat him. The fourth evil ex turns out to be a girl; during a phase that Ramona says she was going through. Roxy is also defeated with help from Ramona but by now Scott is upset with her dating history. The 5th & 6th evil exes are twins Katayanagi brothers Kyle and Ken, synthesizer playing duo. During the second round of the battle of the bands, the twins are defeated by the force of the music of Sex Bob-omb and Scott earns an extra life.
The 7th ex turns out to be Gideon, a power record mogul and the sponsor of the Battle of the bands. He signs up Sex Bob-omb but Scott is upset with Ramona and the hold Gideon has over her and leaves the band. Later at a club showcasing the band, Scott arrives to fight Gideon and take back Ramona. He professes his love for Ramona and gains a sword called the "Power of Love", which he uses to fight Gideon, only for Gideon to destroy it. Knives then crashes the scene to fight Ramona over Scott. Scott goes to break up the girls' fight, only to accidentally reveal that he cheated on them with each other before he is killed by Gideon. In Limbo Ramona visits Scott and informs him that Gideon had planted a mind control device in the back of her head. Scott uses his extra life and comes back, challenges Gideon again, stating he is fighting for himself and gaining the more powerful "Power of Self-Respect" sword with which he strikes down Gideon. He then apologizes to Ramona and Knives for cheating on them.
Gideon attacks the three of them but Scott with help from Knives destroy him. Free from Gideon's control, Ramona is sorry that she had pulled Scott into her affairs and prepares to leave. However Knives tells Scott to go after her, which he does and restarts his relationship with Ramona.
Cute, funny with the gaming theme all over the movie, it's fun to watch if you don't want to watch a serious movie. Really cool. 8 outta 10!
Now that's some Sunday sweat & dust. Got some electrical work done at my home. Living room switch board, where we have the tv, Asianet digital box & dvd player plugged in, needed to get two sockets replaced. And in my bedroom the switchboard is quite old, having been placed in way before we moved in to the apartment. Luckily for me the electrician who had come in to check a couple of days ago was able to come on a Sunday with replacement parts. So I have a brand new switchboard in my room and an additional 3 pin socket (I only had one earlier).
The next thing was my fan. I had a new fan installed 2 years ago but the past few months it had become quite slow. The capacitor needed to be changed (not that I knew how or that itself was the problem). The fan that was quite slow is now superfast – imagine a turtle and then think of Speedy Gonzales or The Road Runner! And then yell out "¡Ándele! ¡Ándele! ¡Arriba! ¡Arriba! ¡Epa! ¡Epa! ¡Epa! Yeehaw!" or "Beep beep" – depending on which quick cartoon character you envisioned. However the fan, which hasn't been cleaned for a long, long time, was covered in dust and so the technician used an old sheet that I gave him to clean the blades. All that dust covered my sheets on my bed, which was ok since I was going to change them today anyway. Once he was done I took the dust covered bedsheets and tossed out the dirt and then put the sheets for washing. Then it was a broom & pan to clean up the floor and a mop with cleaning liquid to clean out the floor.
Once the guy finished I paid him and then went in for a long shower to clean off the dust and sweat. Ahh feel so good to sit under the newly improved & powerful fan. Nice. I'll probably drift off to sleep!