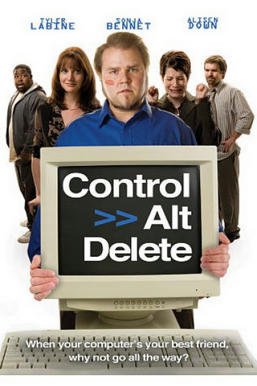 Remember the Y2k hype and all that jazz? Well if you don't let's get you a reminder. Control Alt Delete is a 2008 movie set in the days just before new year's day 2000. The movie uses the Y2k 'problem' as a backdrop against the personal & sexual problems of a young programmer going through a difficult phase. Directed by Cameron Labine in his debut, the movie stars his brother Tyler Labine along with Sonja Bennet, Alisen Down & Laura Betram.
Lewis Henderson is a computer geek in 1999 who has somehow scored himself a sexy girlfriend named Sarah. However he finds himself unable to couple, all of Sarah's efforts go in vain. When she sleeps, Lewis goes to his computer and downloads internet porn pictures and masturbates, only being able to achieve orgasm in this manner. At work he applies for a promotion when his boss Angela announces two posts for heading networking & programming respectively. Lewis gets the head programmer's job while his arch nemesis Gustafson gets the networking job. Their main focus is to save their data from the expected fallout after Y2k hits.
When Sarah finds out about his downloading porn, she leaves him and immediately starts dating again. With no watchful eye and relationship restrictions, his cyber-love increases to hardware love, his sexuality requiring not pictures of people shining on the monitor, but carefully drilled holes in the side of his computer case. This weird sexual satisfaction becomes an obsession for Lewis. He also does it to an office system. Despite this he also manages to get something of an interest in the new receptionist Jane. He asks her out, initially to ward of attention towards him in finding the computer rapist but soon he develops an interest in her. But he is still unable to have sex with her and only using the holes in his computer's CPU can satisfy him. As New Year's Day, 2000 approaches, Henderson's work and romantic issues intensify.
He tries to approach Sarah but she has clearly moved on. He is also getting pressure from his boss (played hysterically & humorously by Alisen Down) as his efforts to create the program keep failing. The countdown to Jan 1st is looming. His team, which includes his close friend Keith, is losing confidence in him. Plus Gustafson is on the hunt for the computer rapist and recruits Keith in setting up cameras to capture the culprit in action. Lewis gets upset when he finds out that Jane is an infamous internet star with her own voyeurism website; known as Tracy in the site, fans can watch her toilet cam as she does her business without being able to see her face just her….parts! He gets upset and leaves. He gets fired the day before the deadline for failing to deliver and as Angela goes berserk, the other employees leave the office to go for new years parties rather than stay on and try to finish the work. Lewis has hit upon the answer – there is no solution and there won't be any problem and so they have to not try and fix it!
He sneaks his way into the office and drills a hole in the main server to sexually satisfy himself but Gustafson catches him in the act. After the latter is knocked out by his own walky talking, Lewis finishes the sexual act even getting himself a big shock that knocks him out. Keith sees this, takes Lewis over to Jane's house and leaves Gustafson there. The next morning everyone things that the rapist is Gustafson. With no major issues happening worldwide the Y2K threat is over but the company still shuts down. As Lewis looks forward to searching for a new job he joins Jane, asks her forgiveness for judging he when he himself has a strange fetish and they leave together in her car. Keith finds success in his porn websites.
Funny & sweet in places it's weird look at sexual relations gets some good points through. Despite that it's a simple story of trying to fit in and just finding some satisfaction. I found the over usage of surnames, all ending with son (Peterson, Gustafson, Henderson etc)  in the company hilarious as they intended. 6 outta 10!