Vetran actor Sherman Alexander Hemsley, most famous for his role as George Jefferson on the CBS television series All in the Family and The Jeffersons, and as Deacon Ernest Frye on the NBC series Amen has died. One of my biggest memories growing up in Kuwait was watching the Jeffersons on tv with my family – a sitcom that last 11 seasons. The show was launched as the second spin-off of All in the Family, on which the Jeffersons had been the neighbors of Archie and Edith Bunker, and focused on George and Louise Jefferson, an affluent Black couple living in New York City. Hemsley played George, an ambitious African-American entrepreneur who started and managed a successful chain of seven dry cleaning stores in New York City, who had some sarcastic comments that were hilarious.
Though Hemsley was largely typecast as George Jefferson, he continued to work steadily after the show's cancellation. 1989, Hemsley, who had previously been a jazz keyboardist, released a single entitled "Ain't That a Kick in the Head". This was followed in 1992 with Dance, an album of rhythm and blues music. In 1999, Hemsley collaborated with Yes lead singer Jon Anderson on an album titled Festival of Dreams which was not released.
Hemsley was a shy and intensely private man who was characterized by some as reclusive. He avoided the Hollywood limelight and little of his personal life was public knowledge beyond that he never married and had no children. On July 24, 2012, Hemsley died at his home in El Paso, Texas, apparently of natural causes. He was 74.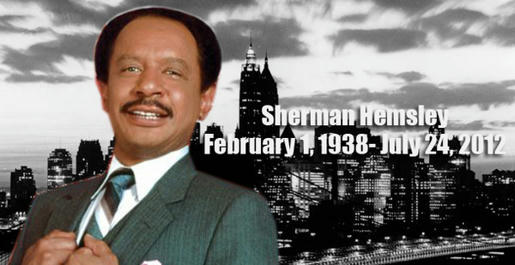 Sherman Alexander Hemsley (February 1, 1938 – July 24, 2012)