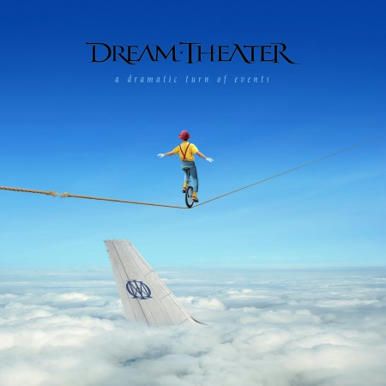 If you are a serious rock/metal musician, interested in approaching your art with the passion and dedication of the greats, look no further than Dream Theater to find a suitable role model for a band. There are hardly any other quintets who are as proficient on their respective instruments of choice as these guys. A Dramatic Turn Of Event, the eleventh studio album by American progressive metal band Dream Theater, was released worldwide on September 12, 2011 and in the United States on September 13 through Roadrunner Records. It is the band's first recording to feature drummer Mike Mangini following the departure of founding member Mike Portnoy in September 2010. And their fans flocked to see if the sound would change with the change in personnel.
A commercial success, the album moved 36,000 units in the United States in its debut week, charting at number eight on the Billboard 200. Since July 2011, Dream Theater have been on tour in support of the album. They sound much like the DT we know and love. was produced by John Petrucci and mixed by Andy Wallace. It was written, recorded, mixed, and mastered between January and June 2011 at Cove City Sound Studios in Long Island, New York. First single and opening track On The Backs Of Angels starts things off in, pardon the pun, dramatic fashion. The song was written by the band's guitarist and producer John Petrucci, keyboardist Jordan Rudess, and bassist John Myung with lyrics by Petrucci. Rudess and Petrucci's works will make you feel damn good. Build Me Up, Break Me Down is the next single with a riff that will please headbangers and fist bangers. S inger James LaBrie did a three-layer vocal hook, which is insane. John Myung's bass riff is insane and fits perfectly. The drums are amazing in this track. The chorus is catchy and Petrucci's amazing solo followed by fucking insane keyboard work by Rudess owns.
The next song is a technical fest – Lost Not Forgotten starts off with a delicate piano intro before Petrucci's monstrous riffs take over with Mangini following up with some intensive drumming. With many twists and turns all over the song, this is already one of my favourites of theirs – of all time! Amazing guitar solo too. The next  track is more of a ballad with some heartfelt solo guitar work and Jordan's melodic keyboard riffs. James delivers some of his best vocal performances to date. Bridges In The Sky starts off with some fuzzy noizes and then a throaty bellow (some kind of tribal vocal performance?) before the church style chanting starts and then the band kicks in. A furious guitar solo follows later and the song ends with the same sounds that launches it. Outcry begins with some delightful keys play by Rudess laid on a synthesized drum beats before the rest of the band joins in. The keyboard work is uplifting over here. The drums, bass & guitar lock in for a rhythmic heartbeat style riff-age and James takes over.
Far From Heaven is a gentle piano work and some strings & LaBrie outperforms here, with intense emotion. This is an extremely melodious and personal song. Breaking All Illusions, the longest song on the album which is written by John Myung, after 11 years, he has penned down stuff and boy does he deliver. Everyone is at the top of their form for this track. And we come to the end of the album with Beneath The Surface; which starts with a dripping tap before gentle acoustic riffs and James's emotional & melodious vocals starts. Jordan's lovely keyboard solo gives you goosebumps.
I would call this one of the better offerings but not their best yet. Still awesome to hear and with a few listens you should be easily able to include this as a staple of your collection. Here is the video for On The Backs Of Angels.