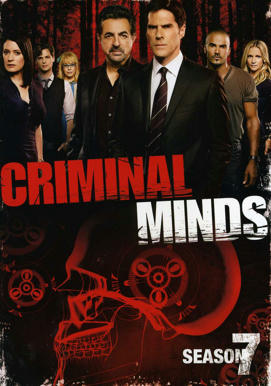 Season 7 starts off with two familiar faces rejoining the team – JJ rejoins the BAU and later an emotional reunion with Emily shakes some of the members. Morgan has been tracking Doyle since the day Prentiss "died" and that Doyle's son is in danger. In a race against time, Doyle is killed while trying to leave the country and his son is sent to live with a new family. After that rollercoaster of emotions and the end of a chapter, the BAU are sent to investigate a case where women are being found murdered after being robbed of one of their five senses in Oklahoma. JJ and Prentiss get the cold shoulder from Reid as he deals with their deception about Prentiss' presumed death, while Rossi has a cooking lesson for the team to bring them together.
The BAU team then investigates a mass murder at an Internet security company in nearby Charlottesville but clues reveal it is not a typical serial killer at work. Meanwhile, Prentiss must complete recertification training under Morgan's watchful eye. Survivors of a high school massacre in Boise that occurred in October 2001 return to remember the event 10 years later, but the BAU team is called in when a new killer with a similar style targets the survivors. Also, Hotch is worried that his son, Jack, may be a victim of school bullying, while Morgan and Reid exchange pranks. The BAU team investigates the abductions of young children with troubled mothers in St. Louis. Rossi reconnects with his first wife, who has shocking news for him – she is slowly dying and wants him to help her end her life. The BAU team investigates the abductions of young children with troubled mothers in St. Louis.
When a series of tornadoes hits Kansas, the BAU is called in to investigate bodies of young boys that turn up in the aftermath of the storms. A case turns personal for Garcia when the BAU investigate the disappearance of a woman in her survivors' support group whose daughter went missing seven years earlier. When a small group of military academy youths commit a mass suicide, the BAU team looks into the real reasons behind their actions. Meanwhile, Hotch and Morgan disagree when a team member could be in jeopardy. Hotch has to stand up to Erin Strauss's drinking problem and make her seek help. The BAU team investigates a string of fatal beatings in Philadelphia and looks into to the city's boxing scene in search of the killer. Hotch makes a connection with an attractive runner, Beth Clemmons, as they both train for a triathlon. A series of murders in San Francisco bearing the tell-tale signs of the infamous Zodiac Killer have the BAU wondering if the notorious serial killer has returned. Also, Reid ponders if he should be doing more with his genius abilities. The BAU team searches for a serial rapist in Houston known as "The Piano Man" who has resurfaced and is assaulting his previous victims. Also, Prentiss tries to come to terms with her trauma from last year and with rejoining the team.  The BAU agents try their luck in Atlantic City when the team is called in to investigate a series of ritualistic casino-related murders. Meanwhile, after a spat with her boyfriend, Kevin, Garcia thinks she and Morgan may have gotten a little too friendly with each other.
The BAU are summoned to Southern California to investigate when a serial killer's body dump is found in a lifeguard tower. A series of brutal home invasions and murders in California's Inland Empire initially appear to be gang-related, but the BAU investigation may uncover a more sinister motivation. Meanwhile, Prentiss suffers from a mild gunshot wound. When the BAU travels to Atlanta to investigate the murders of women, the clues lead them to look for an unsub who is not working alone. When married couples fostering young children end up being killed in Seattle, the BAU team looks for an unsub with a maternal-yet-murderous instinct. Also, Garcia fears a possible proposition from Kevin. The BAU is called to Arizona when one young boy is found wandering the desert and another child goes missing, which hits close to home for Morgan. The BAU team heads to Oregon to investigate a series of gothic, ritualistic murders. A woman believes that she is fighting against the Devil and his wives; when she dies, the task is continued by her son and reluctant daughter. Morgan's sister sees a girl who looks like their presumed dead cousin. Morgan has to confess to his family about the lie he told, and the BAU re-opens her case. After a serial killer is executed in Oklahoma, a copycat shows up and the FBI agents are called in to find him. Meanwhile, Prentiss gets nervous about a real estate purchase.
Rossi and the team present one of the longest-tenured serial killer cases to college students, and they take the class through a nearly 20 year chase for the murderer. When the BAU goes up against a gang of serial-killing bank robbers in Washington, D.C., the team tries to negotiate the situation unfolding inside the bank, but the stakes rise when JJ's love, Will, gets dangerously involved. Also, a phone call from her former boss makes Prentiss ponder her future. As the BAU team continues to pursue the bank-robbing serial killers, the team determines that the suspects have a bigger target in the Nation's capital, and with one of the team still a hostage, they must work quickly to defuse an explosive situation. Also, there are wedding bells for JJ, Strauss thanks Morgan for his help and Prentiss makes a decision about her future. She decides to leave the BAU and rejoin working for her old boss in Interpol. During JJ's wedding, Prentiss dances and spends time with everyone as she emotionally says goodbye to the team.