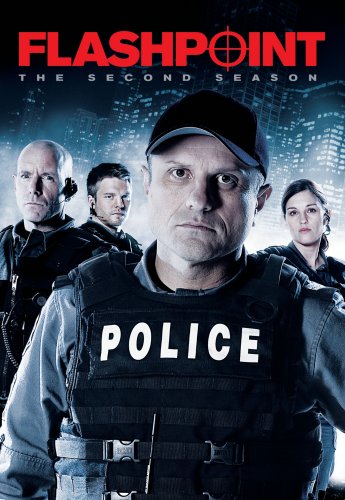 Season 2 starts off with an emotional high – three menwho recently lost their homes to bank foreclosures take the CEO of their mortgage society hostage. While Ed and Sam search for the shooter, Parker tries to talk down the third man, who has doused himself in gasoline and is threatening to immolate himself on live television if his demands are not met. Meanwhile, Parker must find a replacement for Jules while she is recovering from her gunshot wound, finally settling on Donna Sabine (Jessica Steen who joined the cast while actress Amy Jo Johnson had her baby). Two children, their Russian nanny (played by the beautiful Ona Grauer), and a neighbor are taken hostage when they walk in on a group of thieves in the children's home. The SRU comes in to negotiate, but the stand-off escalates when Mischa, the leader of the thieves, kills one of the hostages when he feels the SRU is not taking him seriously. The situation is resolved with two of the thieves standing down, but the SRU is left with no choice but to use lethal force against Mischa.
Team One is tasked to protect a serial killer who has confessed to his crimes and is now returning to Canada. The party is attacked and Sam is taken hostage by a victim's father looking to take the law into his own hands. In order to negotiate Sam's release, Parker makes a call to leave the killer in the hands of a transit agent who is looking for revenge of her own. Donna is forced to shoot the agent before she can kill her target. Kari Matchett and Peter Outerbridge guest star. Next Two teenagers find themselves with hostages when their attempted robbery of a supermarket goes awry. Parker is able to reach out to one of the boys to end the situation peacefully. A young woman (Laurence Leboeuf) gives her son up for adoption, but when her boyfriend re-enters her life, they decides they want the child back, kidnapping him from his adoptive family and demanding a lawyer to find a way to end the adoption. Realising that she cannot care for the baby, the young woman contacts Team One and attempts to end the situation herself. Recognising the young man's pain at never having had a family of his own, Parker begins negotiations, but is put in a position where he can save either the baby or the father. He is able to return the child to its adoptive family, but the young man jumps to his death.
A young man is persuaded by his half-brother to use his position at an electronic bank to end his half-brother's gambling debt. However, as soon as the transaction is completed, his half-brother reveals that a Mexican gang has kidnapped the young man's pregnant wife and is demanding $500,000 in exchange for her life. Team One lets the stand-off play out long enough to find the gang and rescue the woman from her captors. A student brings a gun to school to carry out revenge attacks against some bullies who humiliated him in front of the whole school. The situation is complicated when a local police officer on-scene believes the boy has killed his son, and goes looking for revenge of his own. Parker leads the SRU's efforts to calm the boy and defuse the situation with the help of a student close to the boy. But just as the stand-off ends, the distraught father arrives on-scene and shoots the boy. The boy survives while the father is arrested. When Laura, a woman (Kathleen Munroe) finds out that she has a brain disease, she decides to end her own life. Her fiancé Even (Luke Kirby) promises her one night where they will do whatever she wants before administering a fatal overdose of morphine. After skipping out on a restaurant bill and robbing a pawn shop, they take hostages at a wedding reception where they plan on killing themselves after one last dance. Team One convinces them to stand down, promising that they will be able to spend their time together before Laura dies. A young boy, Mattie, is shot after witnessing a local gang killing. His brother Derek takes him to a hospital, but the gang pursue them, intent on killing any witnesses to the crime. The SRU arrive on-scene and must stop Derek and the gang from killing one another. Derek surrenders, but Mattie is convinced that there are more gang members looking for him and they will only back down if he kills them first.
A series of bomb threats are made by an environmentalist extremist group. Team One have just 90 minutes to end the threat, and reach out to the surviving members of a dormant extremist group for help. While Spike disarms one bomb, Lou accidentally steps on a landmine while approaching the second. While the SRU locate the bomber – revealed to be the daughter of the original extremists – Spike attempts to save his friend. Lou convinces Spike to leave before taking his weight off the mine, knowing that Spike will only endanger himself. Lou is killed in the explosion, and Team One must deal with the loss of one of its own. The SRU unit must rescue a young woman (Joanna Douglas) from a delusional man (Brian Markinson) who insists she is his missing daughter. Jules persuades him to let her go. Team One's newest recruit, Leah Kerns (Olunike Adeliyi), has been seconded to the SRU in the wake of Lou's death. A prison riot begins during a parole hearing where Anton Burrows (Roger R. Cross), a man convicted for murder, is once again denied parole after a statement made by his victim's daughter (Sarena Parmar) and wife. Burrows takes them as hostages to protect them from the other prisoners during the riot. As the SRU attempts to defuse the situation, Ed is convinced that Burrows – a friend from his time before joining Team One – means the hostages no harm. Spike discovers that the riot is not an attempted break-out, but an uprising by one prison gang against another. Burrows protects the women throughout the riot, and they promise him they will speak on his behalf at his next parole hearing.
After winning custody of his children in court, a man takes his wife's lawyer hostage and leaves Team One searching for answers. Jules discovers that the children have been kidnapped and their mother (Kathleen Robertson) is unaware of their disappearance. Ending the stand-off in the lawyer's office, the SRU realise that the mother conspired with her boyfriend and her lawyer's assistant to stage a parental abduction and escape to Ireland. A radio talk show host (guest star Michael Riley, Gemini Award winner for this role) is hunted down by the SRU when he takes a politician hostage and threatens to kill the man live on air if he does not confess to being a murderer. The talk show host believes his hostage used his family's money to cover up a drunk driving accident that left a young man dead. The politician admits to staging the scene of the crime, but only to protect the real driver, the young man's girlfriend. Police arrest a woman for robbing a rural convenience store. The SRU, however, has her released when she tells them she ran away from a small community known as The Farm after hearing plans of an attempt to commit murder on its residents. Ed and Jules enter The Farm and discover that it is a cult, but Ed is captured by their leader, Charles. He learns that Charles has cancer and is planning on making poison gas to kill everyone living at The Farm because he believes that he cannot protect them from the outside world once he dies. The SRU rescues the residents, but Charles commits suicide. Parker is lured into a trap after being called away on undisclosed personal business. Ed leads Team One to track him down, finding a meth lab on the waterfront. Parker's captors demand that he reveal a secret from his time as a homicide detective, or else they will kill him. Parker's secret concerns an 8-year-old girl named Hayley, whose mother died during a shootout when Parker and his colleagues served a warrant on her home. Parker's captors are convinced that he shot Hayley's mother and then covered up the truth and has been taking care of Hayley out of guilt, but Team One learns that Hayley accidentally shot her own mother, and that his care of her helped him recover from his alcoholism.
Robert Cooper, an anti-drug advocate, takes the law into his own hands when his brother overdoses on cocaine. Team One follows a trail of injured drug dealers to try and stop Cooper before he kills someone. They follow him to the Steele brothers, two rich men who started dealing drugs when they were cut off by their family. Cooper surrenders to the SRU, and the Steele brothers are taken into custody. Meanwhile, Wordie and Leah clash when Leah comments that the neighbourhood is a bad one, unaware that Wordy grew up in it. Team One is called in to a hockey arena that is scheduled for demolition when shots are fired inside. The subject is Darren Kovacs, a former soldier suffering from survivor's guilt after his friends were killed in Afghanistan. Kovacs has returned to the arena because it is the only place he feels comfortable. Sam uses his experiences at war to try and talk Kovacs down, but Kovacs takes Spike hostage, leaving Ed with no choice but to shoot him. Sam is torn between his belief that he could have talked Kovacs down and his shared experiences of Afghanistan, leading him to question his place on the team.