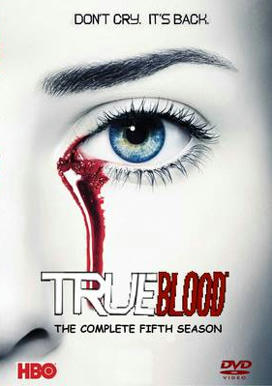 Starting off right where we left the last season, season 5 sees Sookie & Lafayette mourning a dear Tara when Pam appears. Sookie and Pam make a deal: if Pam resurrects Tara by turning her into a vampire with Pam's blood, Sookie will help repair Pam's relationship with Eric. And so we now have Tara who is turned into a vampire, sire by the hot Pam. Ah Pam! OK, meanwhile, Bill and Eric are arrested by the Vampire Authority for Nan Flanigan's murder, when Nora, Eric's 'sister' rescues them and has sex with Eric. Rev Steve is now a gay vampire and has his eyes set on Jason but is saved by Jessica.  Eric and Bill are grilled by the Vampire Authority in their headquarters in New Orleans and ask that they spare their lives in exchange for their assistance in stopping the former king-now-fugitive Russell Edgington.
Alcide has his own issues as he comes forward to the wolf pack and reveals he killed Marcus, not Sam. Sam is released from his torture and Alcide has to now take his place as the pack master as he was the werewolf that killed the old one, Marcus. Hoyt refuses to listen to Jason's explanation & excuses for his fling with Jessica and this puts a strain on their lifelong friendship. Pam initially doesn't care much for Tara and the pleas of Sookie to help her but when Tara attempts suicide, Pam's instincts takes over and she stops her from doing so.  Pam forces a reluctant Tara to embrace her nature and live as a vampire. Terry gets a visit from a friend from his days in Iraq and their past comes to haunt them really badly. Alcide & Sookie almost hook up but are interrupted by Eric & Bill who ask for her help to find Russell. In the parking lot where Russell was buried, Sookie uses her fairy powers to discover that a woman from the Vampire Council glamoured Alcide's employee and rescued Russell. This leads Alcide, Eric, Bill, and Sookie to a charnel house where they find humans used as food. They find Russell recuperating; as Eric says that they've "come to finish" what he and Bill started a year ago, Russell states "give it your best shot" when it cuts to another werewolf surprise attacking Alcide from behind.
Wolves attack Eric, Bill and Alcide while Russell attempts to feed on Sookie, the Vampire Authority appear and take Russell, Bill and Eric to the Authority–after glamouring Sookie and Alcide–where they are praised as heroes. Sookie learns from Jason about their parents' true death (they were killed by vampires), which Jason learns by stumbling upon a shielded fairy club and they go to the fairy night club where they discover their parents died because of Sookie's scent, the vampire having smelled Sookie and killed her parents. Alcide changes his mind and challenges JD, who makes the wolves drink vampire's blood, for the pack master's position. He is however beaten badly. Meanwhile, Roman the Vampire Authority leader is killed by Russell & Salome reveals where her true allegiances lie, admitting she was the one who dug up Russell's grave after following Eric and Bill the night Russell was buried. The Chancellors, Nora, Bill and Eric, under Russell's lead, drink the blood of Lilith and become high. They raid a private party and feast on the humans present. A vision of Lilith (portrayed by actress Jessica Clark) appears, commanding them to continue draining the humans, while looking at Nora. Godric appears in a vision to Eric, stating Eric knows what he is doing is wrong but his sister does not, and Eric must save her.
Hoyt finds new friends who hates vampires, wolves & shifters and they are responsible for shooting at Sam & Luna – Luna has her daughter Emma stay with her grandmothers for safety. Hoyt's new friends kidnap Jessica for him and initially it looks like Hoyt will rape & kill her but he helps her escape. Salome has sex with Bill who bites her but hallucinates that he's having sex with Sookie, he bites aggressively throughout sex; but afterwards we see Salome pleased with the rough sex and Bill holding some of her blood on the tip of his finger. Russell meanwhile steals Emma away as a pet for his new lover Steve. Bill will betray Eric for a powerful position in the authority. Hoyt asks Jessica to glamour him so he can forget her and Jason and move to Alaska. Meanwhile, Nora and Bill convince (force) Eric to believe in Lillith and Bill summons Jessica to the AVL. Sam and Luna sneak into the AVL to try and find Emma while Russell has other plans on his mind, plans that concern walking in the sun by drinking fae blood. Bill losing control orders Jessica to turn Jason into a vampire but she tricks the guards and does not turn him. Meanwhile, Pam takes the fall for Tara's murder of the new vampire sheriff and is taken to the Authority and Steve & Russell go in search for the faeries club.
In the fifth season finale, Eric arrives just in time and kills Russell Edgington and saves the faeries & Sookie from being killed by him. Eric holds Nora back from draining Sookie, who has saved his life on more than one occasion. Along with Nora and Tara, he convinces Sookie to assist them in overthrowing the Authority, with Jason tagging along. Jason carries his parents' images with him, who aren't fond of vampires. Meanwhile, Luna skinwalks as Steve Newlin to rescue Emma and announces the Authority's crimes to the world while Steve is on air. Sam breaks free and ends up killing Chancellor Rosalyn and escapes with Luna, Emma and the rest of the humans. Back in Bon Temps, Andy is forced by Morella to deliver her quadruplet faerie babies with assistance from Holly; afterwards, she goes off without them. Alcide, with help from some vampire blood from his father, kills J.D. and takes over as leader of the pack. At the climax, Sookie, Eric, Nora, Tara, and Jason infiltrate the Authority complex and kill all of the guards in a huge bloodbath and free Pam and Jessica where the reunited Pam and Tara share an affectionate kiss much to Sookie's suprise and Jessica's amusement. Before Sookie and Eric go after Bill by themselves, Bill tricks Salome into drinking blood laced with silver and kills her. He then drinks Lilith's blood in front of Sookie and Eric, faces the "true death," only to rise a more powerful vampire than before. Eric screams for Sookie to run…