Ok, I have written about this in the past but I must rant about it again as there are new developments and new additions to the players of this little game. The name of the game is 'southern fried chicken' and we Malayalees / Keralites absolutely love them!
All this is due to the large population of expats (loving called Non-resident Indians or NRIs) in the Arabian gulf. Most of these countries where Malayalees flock to for jobs, along with their families, had already had plenty of KFC outlets. I myself being an ex-Kuwait resident (from birth till the age of 11) have been to the KFC outlets with my family when we lived in Kuwait. However once we came back to settle in Kerala in 1987  there were no KFC or similarly fried chicken outlets in Cochin, Thiruvananthapuram, Calicut or Thrissur or anywhere else in Kerala. The first time we saw something pop up was a small restaurant, maybe 10 tables in all called Kentucky Chicken Broast which popped up in early 90s on MG Road. The only person I know of who  had been there was an older cousin and he said it was ok. Apparently it was started by a couple of Gulf returnees who had worked in a KFC outlet. They didn't last long and Kentuckey Chicken Broast shut their doors for good in the mid 90s.
Well since then lots have changed in the southern fried chicken scene in the state. KFC entered India in the early 90s (and had huge issues in some states, what with protestors and breaking down of their glass walls) but they were only in the metro cities and didn't touch Kerala. That changed with the entry of Chick King, a Malaylee owned UAE based restaurant chain based on the KFC formula. They opened a few outlets in Cochin and they started booming and would later spread to other cities slowly.
Closely following on the heels of Chick King, two new ones started in Cochin around the same time. Chicken Chicago and Chiknik; while the former has a couple of outlets, the latter was a single restaurant about 2kms from my place. They had some issues and no longer serve the fried chicken style menus but are still a good restaurant that serve Chinese & South Indian style dishes and I've been there with friends twice since the change. Chicken Chicago now has only one outlet, in Padamugal (Kakkanad) near my office and is a Qatari-Malayalee owned restaurant. Nothing to do with Chicago and apparently they also do not know the meaning of the word "downtown"!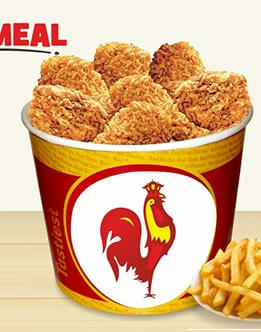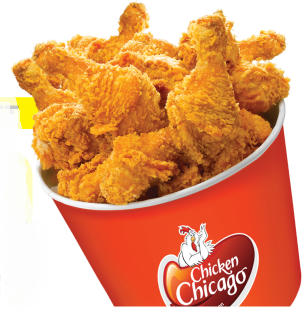 MarryBrown (I know the spelling is crazy) is a Malaysian based restaurant chain. They're the only ones, other than KFC, that doesn't seem to have a Gulf-Malayalee connection. They have outlets mainly in Tamil Nadu (with the strong Tamil diaspora in Mayalsia), Bangalore, Hyderbad and have only 2 in Kerala at the moment, both in Cochin and both in food courts in malls. I love their burgers and friedchicken. Next up is Chickos, also started last year. They have an outlet near me which I have visited, and a couple of others in the state. Not much different from Chick King but it's decent. I can't find a website but their Cochin branch has an active Facebook page. And then there is SFC Plus (Southern Fried Chicken Plus) another UAE based & owned by Malayalees. I haven't had their chicken but I do enjoy their good sub sandwiches, burgers, fried and good pizza. Although for a UAE based company their Facebook page is only about Cochin. This is the case for many others – makes you wonder!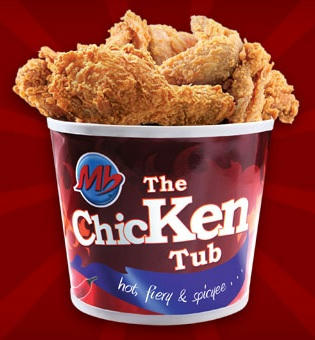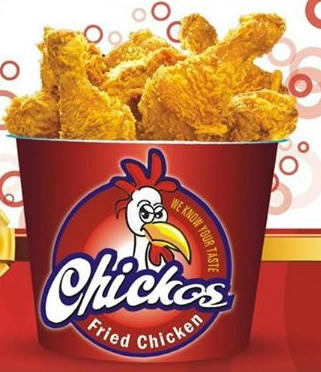 More recently, as in 2012 or was it 2011, Fawaz Broasted opened up in Padivattom (Kakkanad) at a large & busy junction in the city. This restaurant is a Saudi Arabian owned (Malayalees ofcourse) and there is an array of Arabic dishes which you can check out here. From combo meals to grills and burgers, they serve chicken strips too. They seem to have outlets in the other Arabian countries too. I haven't had any from them, but those who have say that the taste is different. NYPFC (New York Pizzas & Fried Chicken) is a brainchild of a us citizen who relocated to India and setup his own chain of fast food restaraunts. This one, like MarryBrown has no connection to the Gulf or Malayalees; their sole outlet in Cochin (Kunnamthai – Edapally)  isn't even shown in  their official website. Funny their Mumbai & Pune outlets, not even open as of yet, are still shown in their Contacts page. I just heard about this outlet and have not been there yet. Krisy Chicken or Fried Krispy Chicken has an outlet in the Oberon Mall's food court but I have no clue if this is a single outlet or part of a chain.
I saw in the newspaper classified that EFC is looking to hire staff. EFC? European Fried Chicken claims to serve the fried chicken, burgers, sandwiches, fried & pizzas. The "difference" is that their "exotic chicken preparations" are European inspired with "real European spices" Hey these are their words, not mine! They have 3 outlets in Thrissur and none in Cochin or anywhere else. I'm guessing that it's probably a Gulf returnee or returnees that have started this chain. No plans on going to Thrissur anytime soon but I might get my best friend who lives there to try them out. Also found out about Magj's American Fried Chicken, a group joint venture of overseas Indians. Their site says that they experimented in Atlanta, GA with various Indian & Asian spices and their products are pure and unique culinary inventions. Their Cochin outlet is in Aluva and I've never seen it yet. Their website shows outlets in many countries (only one in the US & UK). Their contact number is in both India & Kuwait. And finally an outlet called NFC (Newyork Fried Chicken) that has one outlet in the large Cochin Food Mall in Revenue Towers. I recently visited it – it's a much smaller outlet, just a small stall really, very badly run. I had a garlic chicken burger and a piece crispy fried chicken from there – the chicken was saltless but the burger was good. Sorry no photo of their chicken bucket as they don't even have a website. This image is from a photo I took of their logo.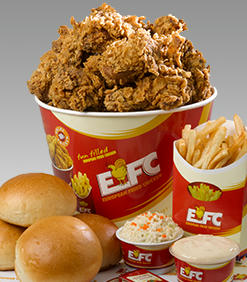 So that's it, the list of fried chicken restauraunts in Kerala that I can find. Of these EFC is the only one that doesn't have an outlet in Cochin. I have yet to try the food from 5 of them. Which one is your favourite?