I'm a vodka guy. Other than beer, the poison of my choice is definitely vodka. I like to drink my vodka with a generous splash of either Sprite or 7up and lots of ice. I like it cold. I love plain vodka and flavoured vodka. Hmmm, green apple vodka is so delicious. I love skullheads. Who does't like a cool skullhead design, right? I'm always into skullhead tattoo designs. And who doesn't love crystal? I admire nicely designed crystal pieces which I'd want to showcase in shelves in my house. And I like Dan Akyroyd a lot. The guy is funny and talented and he has been in several roles in the movies that I love over the years. Dan is an awesome guy. What happens when you combine all of this stuff together?
You get Crystal Head Vodka!
Crystal Head Vodka is an additive-free vodka manufactured by Globefill Inc. in Newfoundland and Labrador, Canada. It was conceived of and founded by actor Dan Aykroyd and artist John Alexander in 2007. The vodka is quadruple-distilled and seven times filtered, the final 3 filtrations through Herkimer diamond crystals. It is additive-free, gluten-free, and kosher certified. The product is packaged in a cardboard box, sold in a clear glass bottle in the shape of a human skull that has a wooden bottle closure. The bottle was designed by artist John Alexander and is manufactured by Milan-based glass-manufacturer Bruni Glass. Crystal Head has won numerous awards, including a Gold Medal for Excellent Taste at the 2013 Moscow ProdExpo Internation Tasting Contest, as well as a Double Gold Medal from the San Francisco World Spirits Competition.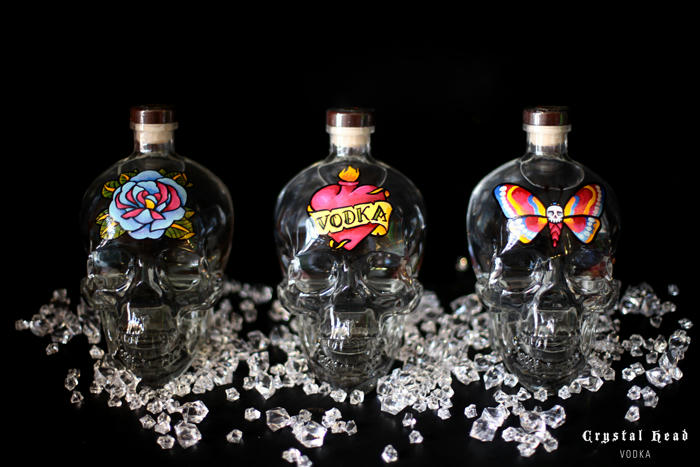 I recently became aware of it while watching Top Chef videos on Youtube and on one of the Top Chef Canada episodes, Akyroyd and his vodka were featured – him as a guest judge and the vodka to be one of the ingredients in the food. I checked and it is available in India at various prices ranging from Rs.10,000 to Rs.7000!