How can you not love this woman? Regina Spektor's video for her single Don't Leave Me (Ne Me Quitte Pas).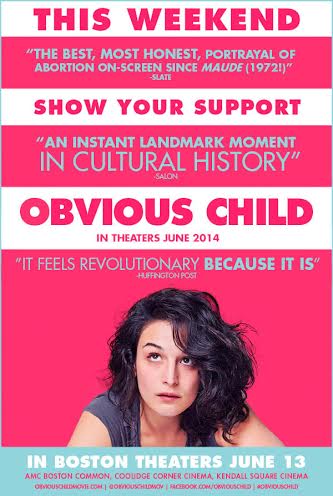 Written and directed by Gillian Robespierre (based on her 2009 short film) Obvious Child is an American romantic comedy film stars Jenny Slate, Jake Lacy, Gaby Hoffmann and David Cross with Richard Kind and Polly Draper. The film is Robespierre's directorial debut and focuses on abortion.
Donna Stern is a young 28 year old woman who works at a struggling book store and does regular gigs as stand up comedian at a small bar. On her birthday her boyfriend breaks up with her as he often gets embarrassed when she talks about their sex life on stage for laughs. He also has been cheating on her with a close friend and proceeds to move in with her right after. Heartbroken she drinks a lot and gets sympathy from her best friend and roommate Nelli as well as Joey, their gay friend who is also a comedian. She is about to get another bit of unpleasant news when her boss says that the book store is closing as they don't make enough profit and have 6 weeks to sell as much of their stock as possible. As Donna visits her divorced parents separately and drowns in pity.
One evening at the bar she meets a preppy & studious Max with whom she hits it off as they spend the rest of the night drinking and end up in bed. To her chagrin she discovers that she is pregnant. Nelli, who went through an abortion in her teens offers her support and says that although she often thinks of her unborn child, she never regretted the decision. Although she keeps running into Max she doesn't tell him about the pregnancy. She invites him to see her set after one such chance meeting but leaves to go hang out with a friend & fellow comedian Sam, which upsets Max who then avoids her. After rejecting Sam's awkward advances, Donna takes a taxi to her mom's place and weepily tells her about the baby. Her mom is surprisingly supportive and tells her about her own unplanned pregnancy and abortion while she was a college student, before she met Donna's father. Donna makes an appointment to get an abortion and finally, decides to tell Max after finding out that he is her mom's student. She does this by blurting it out while on stage while he stands in the crowd. Max is upset and leaves but decides to forgive her and joins her as she goes to the clinic for the procedure.
It is at times sweet and funny and even thoughtful. My only issue with the film is the lead actress, who I did not like. Well it is more correct to say that I didn't like the lead character because I do think Jenny Slate is at times funny but I couldn't stand the constant repetitive and stalling way that Donna delivers some of her jokes while on stage. And her laugh, at her own jokes or even before the punchlines, is so annoying. The character actually ruined some of the film for me. It's a low budget, indie type film set in New York and I like the locales and the places. 7 outta 10!
I can't believe I never posted about this before. Well, this post is courtesy of my current tv series watching schedule. I am currently watching or I should say rewatching, the entire Seinfeld series starting from season 1. I have watched Seinfeld on cable tv before but it was a few episodes here and a few episodes there so I haven't seen more than….let's say 50% of the episodes. Now in the beginning I didn't think much of Seinfeld as a show but it was being shown, 5 nights a week, on Indian cable tv just before FRIENDS and I loved FRIENDS. I have learned to have a much better appreciation of Seinfeld since then and hence the watching of the series.
So now to the actual post, back in 2002-03 I live in Calicut (the city has officially changed it's name to Kozhikode but I still prefer & use the old name of Calicut) for a total of 8 months while I was under the employment of a now defunct company based in that city. While there I stayed in a single room in a lodge and I had two of my colleagues also living in the same lodge. Most mornings we'd meet outside the gate and go to a small mess right opposite our lodge for breakfast and then take a bus or share an auto to the office. In the evening we'd either go to the mess or one of 3 small restaurants within walking distance from the lodge. At one of these restaurants, which we preferred because the food, though more expensive, was the best we'd meet Kramer.
Not the actual Kramer ofcourse but the waiter who usually served us bore a striking resemblance in looks, height but mainly in hairstyle to Cosmo Kramer (played by the actor Michael Richards). And this waiter was weird, looked like he had slept in the clothes he was dressed in, hadn't combed his hair since the mid 90s and was a bit rude and obnoxious not just to us but to other customers as well. When I first saw the guy, I did a commendable job of not shouting "Hey, look it's Kramer" and later explained to my two companions as to who Kramer was (they hadn't seen the show) and hence we always referred to the waiter as Kramer. Towards the end of my stay in Calicut and me and another colleague had gone to the restaurant and at the end of our meal, I explained to the waiter about who Kramer was and that he bore a striking resemblance to the funny character.
He seemed to like that a lot and he actually smiled for us – first time we had ever seen him smiling!