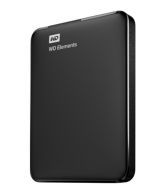 So I was running outta space for my files – movies, photos, television shows, music – and hence I just bought another 1TB Western Digital hard disk from an online shopping site called Snapdeal. So that makes it my 3rd 1TB drive; I also have a 160 GB drive that serves as a back up for my mp3 files and a 350 GB drive that has mostly movie files.
All the music that I listen to is on my laptop and also saved onto 2 of my disks – one a backup and the other is the backup for the backup. I currently have a little over 60GB worth of music on around 11,000 mp3 files. I have something like 850 movies (most of which I have only watched once) shared on two hard drives and my laptop's drive. I'm not sure as to how much GB that is (or TB). I have several tv show seasons also on the two 1 TB hard drives, some of which, just like the movies, I also have on dvds (don't have a Bluray player as of yet). I also have roughly 70GB of my own videos, shot on my phone, which I upload to Youtube, as well. That will certainly increase as the months go by.
I thought of getting a 2TB drive but I thought I'd wait as I also plan on getting a new laptop in a month or so. I will save up some cash for it, though I plan to by it on EMI off my credit card.