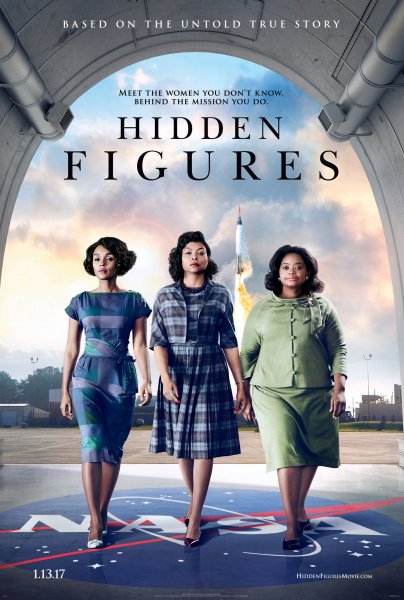 Hidden Figures is a 2016 American biographical drama film directed by Theodore Melfi and written by Melfi and Allison Schroeder, based on the non-fiction book of the same name by Margot Lee Shetterly about female African-American mathematicians at NASA. The film stars Taraji P. Henson as Katherine G. Johnson, a mathematician who calculated flight trajectories for Project Mercury and other missions. The film also features Octavia Spencer as Dorothy Vaughan and Janelle Monáe as Mary Jackson, with Kevin Costner, Kirsten Dunst, Jim Parsons, Glen Powell, and Mahershala Ali in supporting roles.
Although there are some changes for "film and creative purposes" this is a really good movie for all to watch. The film is set in 1961, and focuses on mathematician Katherine Johnson works as a "computer" in the segregated West Area Computers division of Langley Research Center in Hampton, Virginia, alongside her colleagues, aspiring engineer Mary Jackson and unofficial supervisor Dorothy Vaughan. The movie gives us an idea of what segregation in the US was like in those days and how Black-Americans had to struggle to get by and be treated as human being. The segregated bathroom for "coloured" women scenes were, if a little funny, terrible to think of what the women had to go through. Katherine running to and fro several buildings just to relieve herself is something no one should have to go through. White people not drinking from the same coffee pot, black having different public water fountains and not allowed to borrow a book from the regular section of the library – these are things that should shame society when we look back upon them.
What shone through were the strong scenes, the humorous side of things, the fact that these brilliant women never gave up (and never once lost their dignity or composure) and the strength of character. With some awesome acting and casting, this happens to be one of my favourite films that I have seen in recent years. I will give it a 9 outta 10! Kudos to the cast and crew and I hope a lot of people go and see this film. Surprisingly I had only heard about it a couple of days ago when I checked out what running in the theatres and found out more about the film.