Share your favorite breakfast recipe.
I am a simple guy and I prefer a simple breakfast in the morning that isn't too complicated. I want coffee, ofcourse and if they don't have milk but there is sugar then I am fine.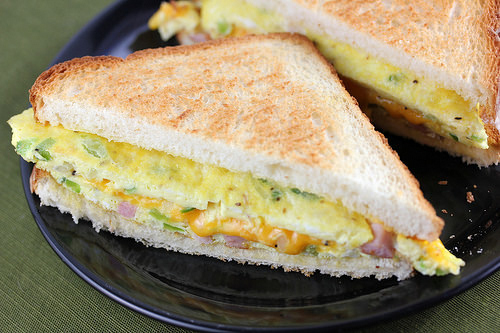 Now, I would want a 2 or 3 egg omelet. Some chopped up onions, maybe some finely chopped up tomatoes and a bit of green pepper, also finely chopped. Other than the onions the rest is optional. Some people add cheese and/or mushrooms to the omelet.
What I do is I add a little bit of milk to the omelet while it is being cooked. It adds a lot to the omelet. Again, it is not needed but it helps.
Now, toast four slices of bread, cut and put the omelet in between the two sandwiches as such. Wanna add some mayo? Sure. Or now add a slice or two of cheese? Great! Or just some plain ole ketchup? Mighty fine! Any which way you cut it, I will enjoy it.
Sit back with the plate full of goodness and enjoy the meal with the coffee and relax!