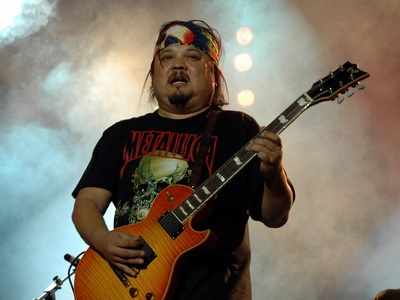 I just found out that Sonam Sherpa (8 October 1971 – 14 February 2020) who was lead guitarist & founding member of Indian band Parikrama, died on Friday. According to reports, the musician, who was in Kurseong to record music for an upcoming movie, suffered a massive cardiac arrest.
Sherpa joined Parikrama at its inception in 1991. He remained as the lead guitarist in the band until his death. Sherpa was featured on CNBC's Young Turks, a show focusing on young entrepreneurs. The BBC also featured him and his band in a rockumentary while on their Download Festival Tour. He took steps in the Indian film industry (Bollywood) by composing the songs and music for the feature film "Manjunath" a collaboration with Nitin Malik and Subir Malik (both from Parikrama). The music of the film received a rating of 2.5 stars from Times of India. Sherpa owned and ran Parikrama school based at Hauz Khas Village, New Delhi.
While not a fan of Parikarama (I just didn't listen to that much of their songs) Sonam could really play on the guitar and he won awards for his blues & rock based playing. He will be missed.